Traffic Management Measures and On-Street Enhancements at College Green and Foster Place
Dublin City Council will implement traffic management measures and on-street enhancements at College Green and Foster Place, Dublin 2 from Monday 29th of May 2023 under the new transformative College Green Pathfinder Project.
The College Green Pathfinder Project will help alleviate public transport congestion in the city core, with the extension of the current College Green bus corridor hours, which at present operates from Monday to Friday 7am to 7pm, to a 7-day, 24 hour bus corridor prioritising public transport at all times. This change comes into effect from May 29th 2023.
This initiative is part of the Pathfinder Programme launched in October 2022 by Minister for Transport Eamon Ryan T.D. The Pathfinder Programme consists of 35 exemplar transport projects to be delivered by local authorities and agencies around the country, projects that can visibly demonstrate the value of using public space for better outcomes, such as greater safety, air quality and accessibility.
Each week over half a million pedestrians and 2 million passengers on public transport go through the College Green bus gate. This compares with just 27,000 private vehicles. However, this small number of private vehicles causes significant delays to public transport journey times in the area, particularly in the evenings and at weekends when there are no restrictions. These new traffic management measures will reallocate the road space exclusively to sustainable modes of transport which account for 97% of current journeys through College Green. 
The College Green Pathfinder Project will also facilitate the interim enhancement of Foster Place, Dublin 2 – a hidden gem in the heart of the city. Nestled between some of the city's most historic buildings, including the Bank of Ireland and the Irish Stock Exchange, the area will become a more inviting public space with planters and public seating.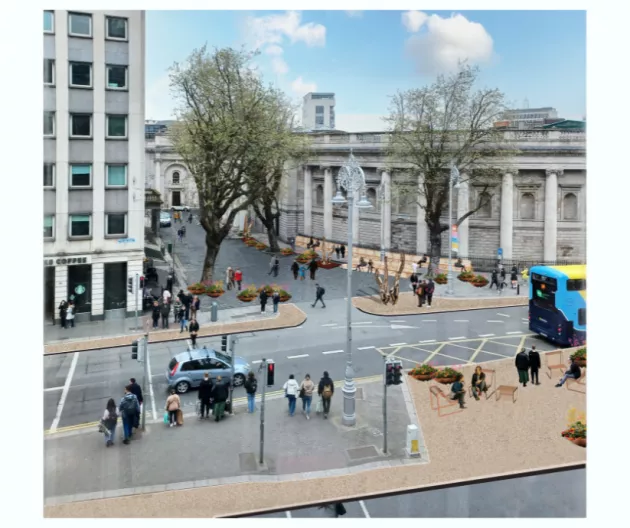 Access into Foster Place and the Foster Place disabled parking space will be retained. Taxi spaces will be reduced in Foster Place and increased instead at the main College Green taxi rank.
Increased interim footpath space (or buildouts) on Dame Street at Foster place will create a safer and more enjoyable experience for the half a million pedestrians travelling through the area on a daily basis. The median opposite Church Lane will also be increased, removing the right turn from Church Lane to College Green. This median area will also be provided with interim public seating and planters.
Works on the decluttering and enhancement for Foster Place will commence from Monday the 15th May and the traffic management measures will commence from Monday 29th of May 2023Traffic Management Measures
From Monday the 29th May 2023 the current College Green bus gate will be expanded to 24 hours 7days per week, prohibiting private vehicles from travelling through in all directions

Taxis spaces will be reduced in Foster Place and increased at the College Green taxi rank

The Disabled Parking Bay on Foster Place will be retained.
To view this, you must update your

Pathfinder Programme
Sustainable Mobility PolicyThe Sustainable Mobility Policy (SMP), which was published in April 2022, includes 91 actions, supporting behavioural change across a wide range of interventions including, among other things, public transport infrastructure and services, active travel promotion and supports, road safety initiatives, legislative measures, research, and public engagement.  Aligned to the SMP is the Pathfinder Programme, which was launched last October.
Pathfinder ProgrammeThe Pathfinder Programme consisting of 35 sustainable mobility projects to be delivered around the country over the next 3 years. The Programme aims to bring increased momentum to the delivery of projects at a local level, providing templates that can be replicated elsewhere, with a strong emphasis on experimental and innovative approaches.
The 35 projects selected to form part of the Pathfinder Programme encompass:
Significant road-space reallocation projects favouring active travel, particularly within the 5 cities but also within a number of towns across the country

Large-scale investments in public transport, including in Waterford and Limerick.

Exemplar 15-minute towns such as in Letterkenny and Killarney;

Cycling networks and corridors across several counties including in Longford, Wexford and Sligo;

Innovative pilot projects such as two in Leitrim which will trial creative shared mobility solutions in rural areas;

Engagement and research projects including capacity-building workshops which will take place across the country; and

A particular focus on expanding the Safe Routes to Schools programme and accelerating access to schools and universities by sustainable means