The 14th Annual Sir John T. Gilbert Lecture
Published on 28th January 2011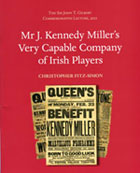 On 24 January 2011 the fourteenth annual Sir John T. Gilbert Commemorative Lecture was held at Dublin City Library and Archive, Pearse Street. The lecture was delivered by Christopher Fitz-Simon, author of 'The Boys', 'Eleven Houses' and 'Buffoonery and Easy Sentiment'. The lecture detailed Mr Kennedy Miller's successful Irish theatre company which toured Ireland and Britain during the period 1889 - 1906. Dr Fitz-Simon discussed plays Kennedy Miller directed, outlined the strengths and signature roles of some of the Company's accomplished actors, and considered what made Irish melodrama so distinct and so popular at that time.
Watch a short video of images from the collections of Dublin City Library & Archive featured in the lecture and in Dr Fitz-Simon's book 'Buffoonery and Easy Sentiment':
This lecture was published by Dublin City Public Libraries in 2012. 'More details on Mr J. Kennedy Miller's very capable company of Irish players publication.