2022 Dublin Literary Award Longlist of Library Nominations
Published on 31st January 2022
Four novels from Ireland are among the 79 books nominated by libraries around the world for the 2022 DUBLIN Literary Award, which is sponsored by Dublin City Council. Now in its 27th year, this award is the world's most valuable annual prize for a single work of fiction published in English, worth €100,000 to the winner.     
Nominations include 30 novels in translation, covering 19 languages, with works nominated by 94 libraries from 40 countries across Africa, Europe, Asia, the US and Canada, South America and Australia and New Zealand. 16 are debut novels. If the winning book has been translated, the author receives €75,000 and the translator receives €25,000. 
The Irish titles nominated for the 2022 Award are:
•    Here is the Beehive by Sarah Crossan, published by Bloomsbury Circus and nominated by Tartu Public Library, Estonia
•    The Art of Falling by Danielle McLaughlin, published by John Murray and nominated by Cork City Libraries, Ireland
•    Acts of Desperation by Megan Nolan, published by Jonathan Cape and nominated by Waterford City and County Libraries, Ireland and Chicago Public Library, USA 
•    Strange Flowers by Donal Ryan, published by Doubleday and nominated by Limerick Libraries, Ireland
Download the complete longlist of library nominations (PDF) 
Borrow the Books!
Many of the novels nominated for the Award are available for readers to borrow from Dublin's public libraries and from public libraries around Ireland, or can be borrowed as eBooks and eAudiobooks on the free Borrowbox app.
More details are also on the Award website at www.dublinliteraryaward.ie.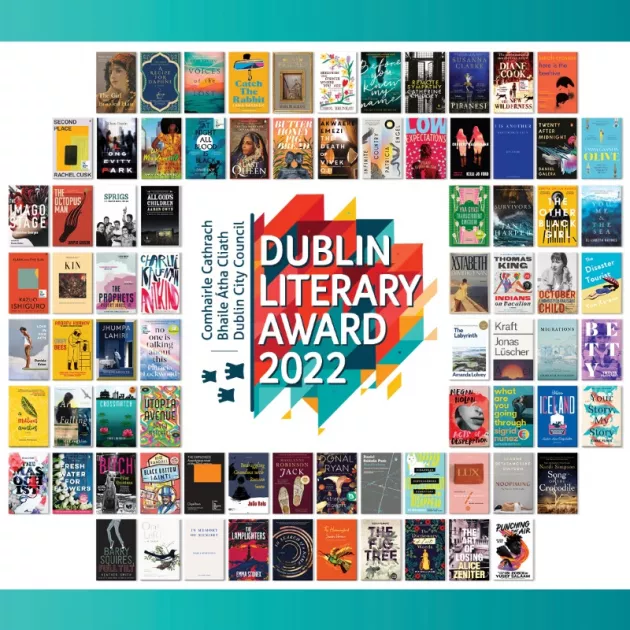 New Libraries
Eight new Libraries have joined the network of international nominating libraries. We would like to extend a warm welcome to Bibliothèque de Québec, Canada; Nanjing Library, China;  Biblioteca Departamental Jorge Garcés Borrero and Biblioteca EPM, Columbia; Bibliotheca Alexandrina, Egypt; Democritus University of Thrace, Greece; Fingal Libraries, Ireland and the National Library of Nigeria, Nigeria.
Novels in Translation
Among the 30 translated books are novels originally published in Arabic, Chinese, Croatian, Danish, Dutch, French, German, Icelandic, Italian, Korean, Norwegian, Portuguese, Russian, Serbo-Croatian, Slovene, Spanish, Swedish, Tamil and Ukrainian Translated authors include Rasha Adly, (Egyptian), (Hoda Barakat (Lebanese), Andrey Kurkov (Ukrainian), Pilar Quintana (Spanish), Salma (Indian-Tamil) and Kim Soom (Korean) and translators include Marilyn Booth, Frank Wynne, Julia Sanches, Martin Aitken and Bruce & Ju-Chan Fulton.
Shortlist
The shortlist will be unveiled on 22nd March and the winner will be announced by Lord Mayor of Dublin, Alison Gilliland, on 23rd May 2022, as part of the opening day of International Literature Festival Dublin, which is also funded by Dublin City Council. 
Longlist
Speaking at the launch of the longlist, Patron of the Award, Lord Mayor of Dublin Alison Gilliland, commended the Award for its promotion of excellence in world literature and the opportunity it provides to promote Irish writing internationally:
'Our city with its rich literary heritage and thriving contemporary scene has created a bridge between world cultures through the Dublin Literary Award.  As someone who enjoys a great book, I can't wait to be tempted by the longlist which will eventually, no doubt reveal a hidden diamond.'    
The international panel of judges who will select the shortlist and winner, features Dubliner Sinéad Moriarty, a writer and books ambassador for Eason's Must Reads book club; Alvin Pang, from Singapore, is a poet, writer, editor, anthologist, translator and researcher; Cork-born, Clíona Ní Ríordáin lives in Paris and is a Professor of English at Université de la Sorbonne Nouvelle; Professor Emmanuel Dandaura is a creative writer, literary critic, festival curator, scholar, and multiple award winning playwright based in Abuja, Nigeria and Victoria White, a graduate with an MLitt in English Literature of Trinity College Dublin, who has worked as a writer and journalist with the Irish Times and the Irish Examiner.
The non-voting Chairperson is Professor Chris Morash, the Seamus Heaney Professor of Irish Writing at Trinity College Dublin.
Dublin City Librarian, Mairead Owens acknowledged the judging panel for their commitment and engagement with the award process this year with special thanks to the chair, Professor Chris Morash.
Previous DUBLIN Literary Award winners:
2021: Lost Children Archive by Valeria Luiselli (Mexican)
2020: Milkman by Anna Burns (Irish)
2019: Idaho by Emily Ruskovich (American)
2018: Solar Bones by Mike McCormack (Irish)
2017: A General Theory of Oblivion by José Eduardo Agualusa (Angolan), translated by Daniel Hahn
2016: Family Life by Akhil Sharma (American)
2015: Harvest by Jim Crace (British)
2014: The Sound of Things Falling by Juan Gabriel Vásquez (Colombian), translated by Anne McLean
2013: City of Bohane by Kevin Barry (Irish)
2012: Even the Dogs by Jon McGregor (British)
2011: Let the Great World Spin by Colum McCann (Irish)
2010: The Twin by Gerbrand Bakker (Dutch), translated by David Colmer
2009: Man Gone Down by Michael Thomas (American)
2008: De Niro's Game by Rawi Hage (Lebanese / Canadian)
2007: Out Stealing Horses by Per Petterson (Norwegian), translated by Anne Born
2006: The Master by Colm Toibín (Irish)
2005: The Known World by Edward P. Jones (American)
2004: This Blinding Absence of Light by Tahar Ben Jelloun (Moroccan) translated by Linda Coverdale
2003: My Name is Red by Orhan Pamuk (Turkish) translated by Erdag M. Göknar
2002: Atomised by Michel Houellebecq (French), translated by Frank Wynne
2001: No Great Mischief by Alistair MacLeod (Canadian) | Alistair MacLeod sadly passed in 2014.
2000: Wide Open by Nicola Barker (English)
1999: Ingenious Pain by Andrew Miller (English)
1998: The Land of Green Plums by Herta Müller (Romanian), translated from German by Michael Hofmann
1997: A Heart So White by Javier Marías (Spanish), translated by Margaret Jull Costa
1996: Remembering Babylon by David Malouf (Australian)