Anthony Horowitz in Conversation with Sinéad Crowley
Published on 22nd September 2017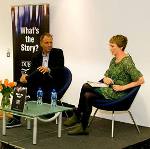 Listen back to bestselling author Anthony Horowitz in conversation with author and RTÉ correspondent Sinéad Crowley, recorded in Dublin City Library & Archive, Pearse St on Thursday 14 September 2017 at 7pm. Hear the wonderfully entertaining Anthony Horowitz​ read from his latest novel 'The Word is Murder' and talk to Sinéad Crowley about what he reads, how he writes and the way he's seeking to change the classic template for murder mysteries.
We love this quote where Anthony remembers when he first discovered libraries and reading as a young boy at boarding school:
"I found a library and I began to read books. And books became to me much more than just a read, they became a lifeline, they became an escape"
 Anthony read from, and talked about his latest novel The Word is Murder, which is the first of a brilliant new detective series set in London featuring Detective Michael Hawthorne.
Anthony Horowitz is one of the most prolific and successful writers working in the UK, juggling writing books, TV series, films, plays and journalism. He has written over 40 books including the bestselling teen spy series Alex Rider, which he adapted into a movie that was released worldwide in 2006.  Anthony is also an acclaimed writer for adults and was commissioned by the Conan Doyle Estate and Orion Books to write two new Sherlock Holmes novels – The House of Silk and Moriarty. He was commissioned by the Ian Fleming Estate to write the James Bond novel Trigger Mortis. His most recent stand-alone novel, Magpie Murders, was a Top Five Sunday Times bestseller.
Anthony is responsible for creating and writing some of the UK's most beloved and successful television series, producing the first seven episodes (and the title) of Midsomer Murders. He is the writer and creator of award-winning drama series Foyle's War, which was the Winner of the Lew Grade Audience award for BAFTA. DCS Foyle was voted the nation's favourite detective in 2011.
Anthony was awarded an OBE for his services to literature in January 2014.
Sinéad Crowley is the author of three crime novels featuring Detective Claire Boyle. Her debut novel Can Anybody Help Me? was a bestseller in Ireland and shortlisted for the Crime Book of the Year at the Irish Book Awards in 2014. Her other two novels are Are You Watching Me? and One Bad Turn, which was published in June. She is the Arts and Media Correspondent for RTÉ, working on television, radio and online.
The Word is Murder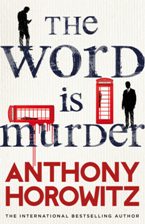 It's been two years since Injustice aired and Detective Daniel Hawthorne needs cash. Having gotten himself fired from his job at the Metropolitan police, Hawthorne decides to approach Anthony Horowitz. He's investigating a bizarre and complex murder and he wants Anthony to write a book about it, a bestselling book of course, with a 50/50 split. The only catch is they need to solve the crime.
But award winning crime writer Anthony Horowitz has never been busier in his life. He's working on Foyle's War and writing his first Sherlock Holmes novel. He has a life of his own and doesn't really want to be involved with a man he finds challenging to say the least. And yet he finds himself fascinated by the case and the downright difficult detective with the brilliant, analytical mind. Would it be really such a crazy idea for Anthony to become the Watson to his Holmes? The Hastings to his Poirot?
Should he stick to writing about murder? Or should he help investigate?
A classic crime for the modern reader, The Word is Murder is a whodunnit to end all whodunnits.
Anthony Horowitz in conversation with Sinead Crowley