The Fact Factory New Magazine for Children
Published on 17th January 2023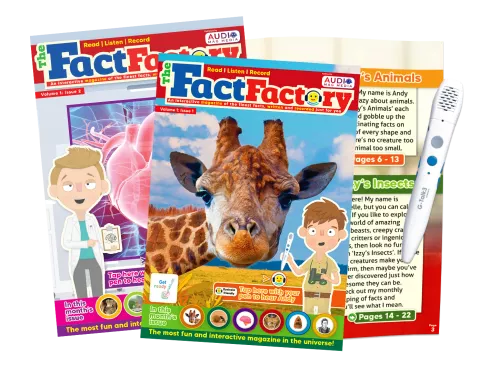 The Fact Factory is now available to borrow from the following libraries; Coolock, Donaghmede, Pearse Street, Pembroke and Walkinstown.
The Fact Factory is a magazine with assistive technology that aims to benefit visually impaired children, children with dyslexia and those who struggle to read (aged 7 – 11).
Children can listen to the text in the magazine through an accompanying G-Talk 3 pen (you can use your headphones with the pen too).  
To borrow or order one, please contact one of the five libraries directly.  They can be borrowed for three weeks and they cannot be renewed. They must be returned to the same library. 
The following is a short demo about the magazine from Fact Factory
To view this, you must update your

Magazine Features
Listen
With the G-Talk 3 pen, young readers can listen to their magazine like an audio book.
Screen-Free
Some parents may prefer their young readers to spend time away from screens but don't want to sacrifice accessibilities and support features. The G-Talk 3 pen enables readers to work from a printed magazine resource, but avail of assistive technology.
Vocabulary Development 
Each monthly magazine contains vocabulary development opportunities. This is achieved through a series of bolded words. When a child taps their pen on one of these words, an audio definition is activated. When this ends, the child can return to reading and listening as normal.