Published on 3rd April 2020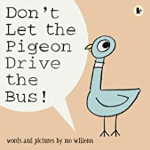 With the whole world feeling the impact of the COVID-19 pandemic it is really heartening to see the response of those involved in the world of children's books. Many award-winning authors and picture-book makers are using their talents to bring a little bit of fun into the lives of their many fans and there are some lovely gestures, challenges and competitions from authors, illustrators and publishers alike.
Author of the hilarious Pigeon series of books (Don't Let the Pigeon Drive the Bus, Don't Let the Pigeon Stay up Late etc.), Mo Willems has been doing an online illustration class every weekday called Lunchtime Doodle.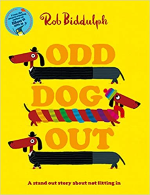 Irish author Oliver Jeffers is reading one of his beautiful picture books every weekday on Instagram and uploading them to his website.
Rob Biddulph, Official World Book Day Illustrator and author of several stunning picture books (including Kevin, Odd Dog Out and the Dinosaur Juniors Series) is doing live drawing lessons on Tuesdays and Thursdays at 10am. Children can upload their efforts with the hashtag #DrawWithRob and tag Rob on Twitter, Instagram or Facebook. His social media details and this week's lessons are available on his website.
The inimitable Sarah Webb, in association with the Museum of Literature Ireland (MoLI), is filming a series of daily writing games and challenges called 'Creative Bursts' for children aged from approximately 9+ (or younger with adult assistance).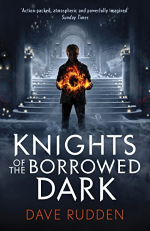 The wonderful new podcast series We Love Books has snagged author and raconteur Dave Rudden as their resident writer to help aspiring young writers with their entries for an exciting writing competition for 3rd to 6th class pupils. Armed with writing tips from the author of Knights of the Borrowed Dark swords will definitely be drawn to fight it out for the titles and prizes.
Irish comic book artist Will Sliney (who has drawn Spiderman for Marvel and more recently worked on the Star Wars comics series) is posting pictures of superheroes for children to colour in, encouraging them to draw their favourite characters and offering praise to aspiring artists. @WillSliney on Twitter and William Sliney on Facebook and use the hashtag #WeWillDraw
And Irish publishers are joining in too. Irish Educational publishers CJ Fallon have very kindly offered free access to their e-books from now until the end of term, a gesture that should be very well received by parents up and down the country.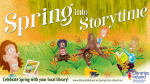 The O'Brien Press, in association with Children's Books Ireland, are running a Design-a-Cover competition and the winner will see their artwork on the cover of a new edition of Gordon Snell's The Supermarket Ghost.
And if you need a break after all that interaction why not grab some alone-time on our Tumble Books e-book resource featuring hundreds of animated, talking e-books which are free to library members. Also keep an eye out on Twitter @dubcilib and Facebook @DublinCityLibrares for #Springintostorytime where we showcase one Tumble book a day.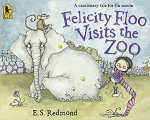 Be sure to check out Felicity Floo Visits the Zoo by ES Redmond for a salutary warning about coughs and sneezes! Stay safe everyone.