Published on 9th May 2020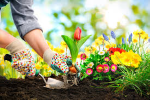 For the gardeners among you the extra time being spent at home is a golden opportunity to get outside more than ever and have the garden looking its best. For the rest of us, whether we have access to a garden, big or small, a balcony or a sunny windowsill we can still start growing plants and developing our green fingers.
Gardening can also be a great family-friendly activity to get children outdoors and involved in growing flowers or fruit and vegetables. Children love to grow things and there are great learning opportunities in all aspects of gardening.
Whatever your level of gardening know-how we have lots of resources to help you develop basic skills or brush up on your existing knowledge and access advice from experts.
Let our library e-resources get you started.
RBdigital
RBDigital gives access to numerous gardening magazines to browse for inspiration or delve into for practical tips and projects.
Gardeners World – offers topical practical advice for gardeners and ideas for garden projects.
Amateur Gardening – offers advice and fresh ideas for beginners and more knowledgeable gardeners.
If you want to take this time to start planning your dream garden or just appreciate some beautiful gardens from around the world there is plenty of inspiration on offer from Gardens Illustrated, House & Garden and Homes & Gardens.
When it comes to garden design and landscaping Modern Gardens gives advice on how to create fresh, exciting outdoor spaces.
With a focus on growing your own fruit and vegetables Kitchen Garden offers growing tips, recipes and much more.
Download the RBdigital app:  Google Play - Android | iTunes - iOS | Kindle Fire. Watch our how to video here.
Pressreader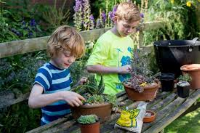 The young gardeners of the future have their very own mini magazine available on Press Reader, Kids Go Gardening. Register for Press Reader, select Categories, and then gardening.
Sign in with your Dublin City library membership card barcode number to access the service. Check out the how to video here.
The Great Courses Library Collection
If you want to get into specific gardening topics in more detail The Great Courses Library Collection offers courses with in-depth video lectures delivered by experts. Each course in this vast collection is taught by experts in their field.
How to Grow Anything - Learn the fundamental rules of gardening in this clear and useful guide consisting of 6 lectures.
How To Grow Trees & Shrubs – a horticulturist and certified arborist takes you through different landscapes, climates and seasons to reveal strategies for shopping, planting and caring for trees and shrubs in 12 lectures.
The Science of Gardening – guides you in developing a science-based, sustainable, vibrant home landscape in 24 lectures.
Download the RBdigital app: Google Play - Android | iTunes - iOS | Kindle Fire
Universal Class
If you want to get into even more detail Universal Class offers courses with instructors, video-based exams and assignments and certificates of achievement at the end.
Try Landscaping 101 or Introduction to Gardening to get you started. To access online, register with your library card number and email address. Watch our how to video.
Borrowbox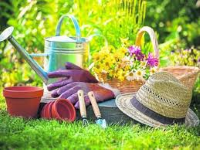 Don't forget to check out our BorrowBox to find garden related e-books and e-audiobooks. And if the beautiful blooms in your garden attract even more birds than usual you could take the time to sit back and enjoy all your hard work while observing the visitors with books to identify the birds of Ireland. Access eBooks/eAudiobooks on your phone, tablet or reader. Once you have installed the app, search for Dublin in the 'Library' field provided and then sign in using your library membership card number and PIN. Watch our how to video on Borrowbox. Members of other library authorities will need to log in using a different link.