Published on 28th October 2021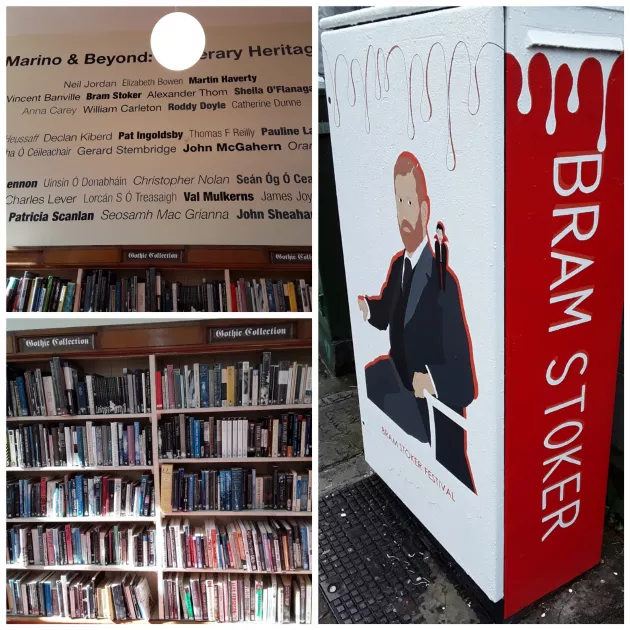 Halloween originated with the ancient Celtic festival of Samhain, when people would light bonfires and wear costumes to ward off ghosts. In the second half of the 19th century, America was flooded with new immigrants. These new immigrants, especially the millions of Irish fleeing the Irish Potato Famine, helped to popularise the celebration of Halloween. 
The Ghost Town Image Gallery showcases the Irish, and specifically Dublin traditions of past times, with more than a nod to the celebrated Gothic writers and the haunted places of the city. It introduces viewers to such supernatural characters as the evil Dolocher and the murderess Darkey Kelly and also to gentler spirits such as that of Archbishop Marsh.
Darkey Kelly is known in Dublin's folk memory as the woman who was burned at the stake for witchcraft after she accused the Sheriff of Dublin, Luttrell, of fathering her baby. However, research has revealed that she could have been Ireland's first serial killer and the story of witchcraft is completely false. Darkey Kelly (whose name was Dorcas Kelly) ran the Maiden Tower brothel, in Copper Alley, off Fishamble Street.
In Marsh's Library the ghost of an old man has been seen at midnight browsing through its ancient bookshelves. The ghost is the founder, Archbishop Narcissus Marsh. For a hundred years after its opening Marsh's Library was the only free library in Dublin. The ghost has been seen searching through the old volumes in the inner gallery of the library that have been identified as his. 
A popular explanation of the ghostly appearance concerns a favourite niece of his, a girl he reared from a child. When the girl fell in love with a sea captain, the archbishop strongly disapproved, and tried to prevent her from seeing the man. The young couple eloped and the girl wrote a note to her uncle, pleading for his forgiveness, and placed it in one of his books in the library.
Archbishop Marsh, however, never found the note and returns in an endless search for it.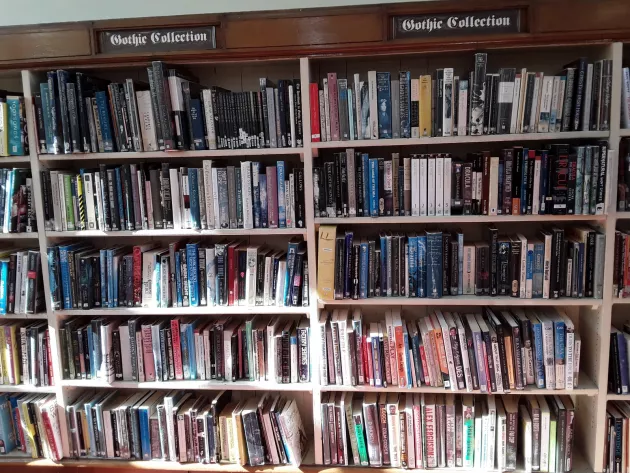 Marino Library boasts an impressive Gothic Collection with Bram Stoker and his most famous novel, Dracula, at the heart. Marino Library's Gothic Collection, contains not only horror stories but many other stories belonging to Gothic literature. This magnificent collection was created by Seán Lennon, local author, and one-time the librarian of Marino Library.
Find out more about Irish Gothic Writers and download a guide to the novels and short-stories that have shaped the Gothic genre written and illustrated by Seán Lennon.
Of all of the authors associated with Marino and Clontarf, Bram Stoker is by far the most famous.  The library has quite a few different editions and study companions to go with it. Dracula, the story of four scientific men using technology and learning to defeat an ancient blood-sucking demon, is one of the greatest ever works of literature due to its sheer influence on arts, culture and even popular understanding.
Marino Library was Bram Stoker's local library. In fact, Stoker born in 1847 and  was raised in No. 15 Marino Crescent. At the time Clontarf was very much distinct from Dublin City, a quiet area and coastal resort popular with bathers and those looking for a break from city life.
Stoker was devoted to studying Irish folktales and Dublin's libraries would have been where he found most of his books on the subject. According to Barbara Belford, author of Bram Stoker: A Biography of the Author of Dracula, there was even a grave site in Clontarf where bodies of certain people were staked, pinning them into their coffins, to prevent them from rising from the dead, as it was widely believed their spirits could not enter the kingdom of heaven and would be condemned to wander the earth. This practice was occurring as late as the 1850s when Stoker was a child.  
In 1878, Stoker married Florence Balcombe , daughter of Lieutenant- Colonel James Balcombe of 1 Marino Crescent. She was a celebrated beauty whose former suitor had been Oscar Wilde. On 31 December 1879, Bram and Florence's only child was born, a son whom they christened Irving Noel Thornley Stoker.
After suffering a number of strokes Stoker died in London in 1912.