Highlights from the International Dublin Literary Award 2017
Published on 21st July 2017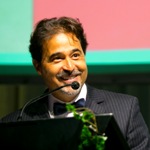 On Wednesday, 21 June author Jose Eduardo Agualusa and translator Daniel Hahn were announced as winners of the 2017 International DUBLIN Literary Award for Agualusa's novel A General Theory of Oblivion.  The Award is organised and sponsored by Dublin City Council and at €100,000 is the world's largest prize for a single novel published in English. Uniquely, the Award receives its nominations from public libraries in cities around the globe and recognises both writers and translators.
In case you missed it we have photos and videos from the Award ceremony.
To view this, you must update your

To view this, you must update your

José Eduardo Agualusa was born in Huambo, Angola, in 1960, and is one of the leading literary voices in Angola and the Portuguese-speaking world. His novel Creole was awarded the Portuguese Grand Prize for Literature, and The Book of Chameleons won the Independent Foreign Fiction Prize in 2007. Agualusa lives between Portugal, Angola and Brazil.
Daniel Hahn is a writer, editor and translator with some forty books to his name. His work has won him the Independent Foreign Fiction Prize and the Blue Peter Book Award.
Photos from the 2017 winner ceremony