History on Your Doorstep at your fingertips
Published on 13th April 2023
We are delighted to share the 'History on Your Doorstep' series with you, written by Dublin City Council's Historians in Residence.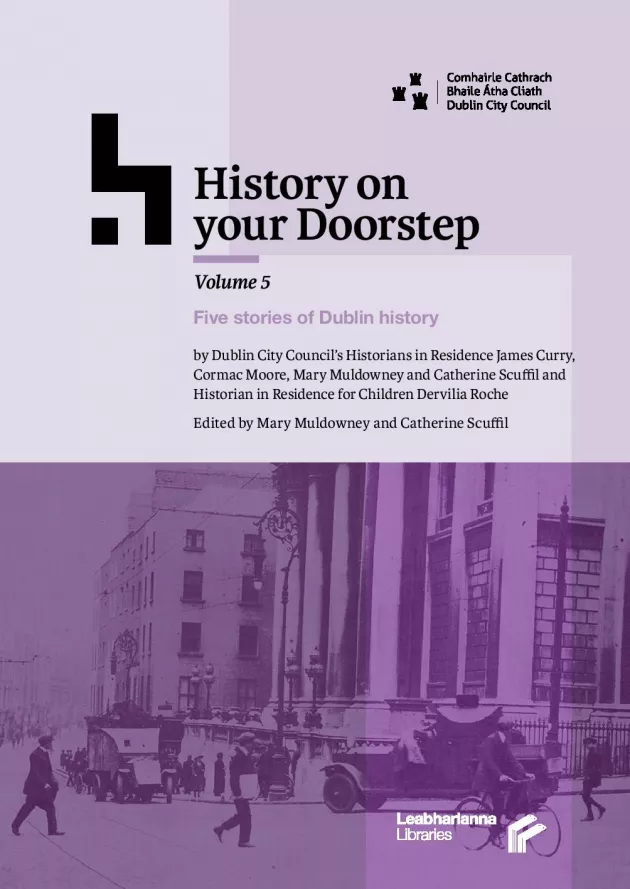 Since 2017, the Dublin City Counil Historians in Residence have worked in neighbourhoods across Dublin City to encourage local people to engage with history, and to promote its sources and discussion, especially the historical collections in Dublin City Library and Archive. They have also produced bite-size history books documenting key moments in Irish history – a series titled "History on Your Doorstep". 
Volume 5, the most recent edition, delves into the history of the  Irish Civil War. An ash shower mistaken for snowfall caused by burning pyres of paper files at Dublin Castle; the painting of pillar-boxes from red to green across the capital; an attack in a small hamlet called Red Cow on the Naas Road; and the transformation of market gardens and allotments into the Irish Free State's first public housing scheme, The Tenters in Dublin 8. These are just a sample of the fascinating vignettes contained in this book.
Other volumes in the series explore myriad aspects of Dublin's fascinating history, with, for example, chapters that explore the legacy of architect Herbert Sims, why Lemon Street is called Lemon Street, and the colourful life and career of football player and manager extraordinaire, Patrick O'Connell, who played for Manchester United and went on to manage FC Barcelona. The books also mark significant events in Dublin's history, with one volume dedicated to Bloody Sunday in 1920.
Dublin City's dedicated Historians in Residence are James Curry, Cormac Moore, Mary Muldowney, Catherine Scuffil and Historian in Residence for Children Dervilia Roche. The programme is created by Dublin City Libraries and is delivered in partnership with Dublin City Council Culture Company.
Each of the History on Your Doorstep books are freely available in libraries across the city and available as an eBook from dublin.borrowbox.com and to download as a PDF below. 
You can download copies of all five volumes below.
History on your Doorstep is produced by Dublin City Libraries and is published by Dublin City Council as part of its Decade of Commemorations programme with the support of the Department of Tourism, Culture, Arts, Gaeltacht, Sport and Media.
Follow us on Facebook and Twitter.