Introducing Transcription Week, a call for participation
Published on 22nd March 2022
Our 'Preparation Week' page has gone live! This contains more context on the collections being digitised, a great new video, tutorials and instructions on how to register an account.
Transcription Week is a week-long event taking place from the 28th of March to the 1st of April where people from all over Ireland will work together to unlock important historical documents and make them more easily available to historians, researchers, students and members of the public. 
These handwritten records have been available up to now in hard copy or in some cases as digital photographs. However the text has not easily been accessible, and because of that these important sources have not been as widely consulted as they could be.
During Transcription Week images of these documents will be available on the Transcribathon website. Transcribers can type in the handwritten information and enrich the documents by identifying place-names, dates or other historical data.
Below: A view of a transcription in progress on https://europeana.transcribathon.eu/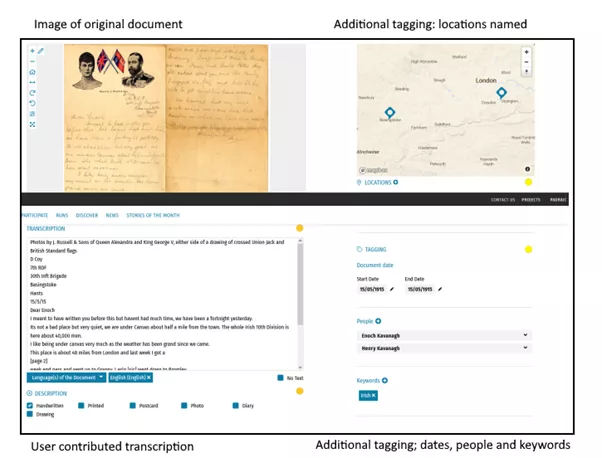 Get involved:
In the build-up to #TranscriptionWeek we are asking potential participants to register their interest with us by emailing [email protected]. 
We will keep you informed of preparations for the event and share news and details along the way.
Our Schedule:
March 21st - 25th  Preparation week 
We will release a number of pre-recorded videos with more details of the Transcribathon project, context for the collections to be transcribed and will instructions on how to set up an account, use the software etc.
March 28th – April 1st  Transcription week
During Transcription Week we will run an optional online workshop each afternoon (duration 60 minutes). Register for the workshops here. 
The workshops facilitators will demonstrate how to transcribe and add to documents. They will also troubleshoot problems participants may run into during their transcribing work.
The workshops are there to help you along and to take part in the transcribing community but you don't need to attend them to take part, just register an account on https://europeana.transcribathon.eu/ and when the Dublin material is released start transcribing!
Watch the Transcription Week video promo:
What are the benefits of transcription?
By enriching digitised heritage material, crowdsourcers can transform these historical documents into useful digital resources. The transcriptions and annotations created are vital for the improvement and preservation of this important heritage, allowing their contents to be read, searched and used for years to come.
Information that was previously only available in hard copy can now be turned into text and rich data. 
Transcription and enrichment open up new possibilities for digital inclusion, enabling the text and data to be translated and automatically converted to audio, tactile graphics and braille. 
Contributors can gain a deeper understanding of heritage material, allowing them to discover new stories and to connect on a personal level to history.
As we transcribe these documents we help to train AI and machine learning tools. We contribute to the improvement of the Transkribus platform and the development of better digital tools for cultural heritage organisations everywhere.  
Additionally, the competitive aspect allows you to show off these skills, become recognised for your work, and compete to become a top transcriber.
What are the documents?
The documents to be transcribed cover almost two hundred years of Dublin history from 1695 to 1881, and the City's transformation from a medieval city to the modern capital we know today. The major collections involved are the Wide Streets Commission and the Dublin City Council Manuscript Minutes.
The Wide Streets Commission [1758 – 1851] re-designed medieval Dublin (which was built along a west-east axis) replacing it with a city aligned along a north-south axis, with streets following mathematically-straight lines. The Wide Street Commission Collection includes minute books, architectural drawings, jury books, and over 800 manuscript maps. It details the City as it was, what it became, and includes details of what it could have been had different decisions been implemented.
Dublin City Council Manuscript Minutes (1840-1880). The elected Dublin City Council (DCC) was established in 1840.  Although the franchise was confined mainly to property owners, this was sufficient to enfranchise both Catholics and Protestants. Their numbers on DCC were very close, facilitating a power-sharing exercise, with a nationalist Lord Mayor one year, and a Unionist Lord Mayor the next. In 1841 Daniel O'Connell, 'the Liberator', became the first Catholic Lord Mayor in over 150 years. 
The DCC held its meetings on the first Monday of each month.  Notes were taken by the Town Clerk of Dublin and by his assistants, and these were worked up into minutes of meetings that were entered into large bound volumes which were then painstakingly indexed by the clerks. 
Project Info:
Transcription Week is part of the European Commission funded EnrichEuropeana+ project. 
The project partners are:
1.    Austrian Institute of Technology - Austria
2.    Stichting Europeana -  The Netherlands
3.    Facts & Files Historisches Forschungsinstitut Berlin Drauschke - Germany
4.    Instytut Chemii Bioorganicznej Polskiej Akademii Nauk - Poland
5.    Read-Coop SCE - Austria
6.    The Provost, Fellows, Foundation Scholars and the other members of Board, of the College of the Holy and Undivided Trinity of Queen Elizabeth near Dublin - Ireland
7.    Dublin City Council - Ireland
8.    Uniwersytet Wrocławski - Poland
9.    State Archives in Zagreb - Croatia