Japan donate translated Japanese books to Central Library
Published on 8th May 2014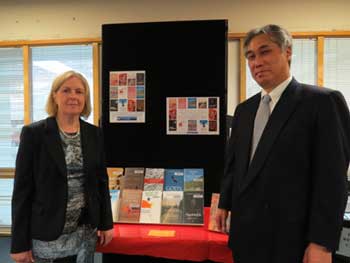 On 8 May 2014, 12 works of Japanese literature donated by the Japanese Literature Publishing Project (JLPP) to the Central Library of Dublin in March 2014, were made available for the public to borrow.
This donation was initiated by the JLPP, which was founded to promote modern Japanese literature to the world. Under this programme, overseen by the Agency for Cultural Affairs of Japan, works of Japanese literature published over the past 150 years are selected by a committee of literary professionals, translated into various languages, and published overseas.
Photo: Ms Margaret Hayes, Dublin City Librarian with Deputy Head of Mission Mr Kojiro Uchiyama. Photo: Embassy of Japan in Ireland
The titles include Hideyuki Kikuchi's Samurai horror Tales of the Ghost Sword which depicts the sorrow of a lower rank Samurai who is obsessed by swords, and Kaori Ekuni's story of a mother and a daughter God's Boat, which was successfully dramatised in Japan.
Mr Chihiro Atsumi, Ambassador of Japan to Ireland said, "I am very happy that the JLPP has offered the translated books to the Central Library in Dublin. I hope that Irish people will enjoy reading Japanese modern literature in English, and gain further understanding of Japan through the works".
Ms Margaret Hayes Dublin City Librarian said, "On behalf of Dublin City Public Libraries, I would like thank the Embassy of Japan in Ireland and JLPP for this donation. This makes an important contribution our international literature collection understanding through these works".
This donation is the first of two batches of books over two consecutive Japanese fiscal years. The second batch is scheduled to reach Dublin by March 2015.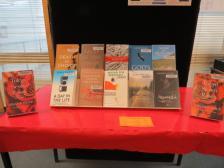 Photo: twelve donated books. Photo Embassy of Japan in Ireland (click image to enlarge)
2013 JLPP donation list of titles