Published on 11th December 2019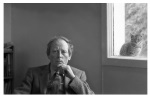 John McGahern's Dublin: the 23rd Annual Sir John T. Gilbert Commemorative Lecture will take place on Thursday 23rd January 2020 at 6pm.The lecture will be presented by Professor Frank Shovlin, University of Liverpool, at Dublin City Library & Archive, 138-144 Pearse Street, Dublin 2,
John McGahern is often thought of as Ireland's quintessential chronicler of rural life, a writer who, through his Leitrim and Roscommon roots, helped to represent the delicate facets of the countryside more accurately than any writer since Patrick Kavanagh.
From Howth of The Leavetaking, to Drumcondra and Contarf of The Pornographer or the city centre pubs of High Ground, he lovingly recreated the city he knew, first as a student teacher and in later years as a mature writer. 
The lecture will examine moments from the published fiction as well as considering an extensive unpublished correspondence that allows us access to McGahern's social networks and his motivations and preoccupations as he develops into one of the greatest writers of fiction in the post-war era.
Reception to follow. No Booking Required. Come early to ensure a place. Further information: 01 674 4999 or [email protected] or [email protected]