More online resources to help with language learning
Published on 1st May 2020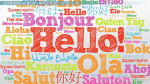 If you are interested in learning or improving a language (including English), our colleague Simon from Inchicore Library recently reviewed three of our excellent online resources. There are also a variety of other aids to language learning which you might not expect to find in our suite of online resources and which Simon outlines for you here.
Here is a quick refresher on Transparent Language Online, uTalk, and Road to IELTS.
RBdigital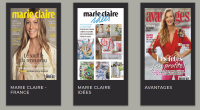 In addition to the 460 English language magazines available to you through this resource, there are also a number of titles in other languages as follows:
•    French - Marie Claire, Marie Claire Idées & Avantages
•    German - Vogue, Brigitte, Arte Mag & Zuhause Wohnen
•    Italian - Focus Extra & Marie-Claire
•    Spanish - Harper's Bazaar, Muy Interesante, Muy Historia & Marie-Claire
Watch our how to video here. Register for RBdigital.
Pressreader.
You have free access to 7,400 publications with this online resource (yes, seven thousand four hundred!). From a language learning point of view, there are publications in 63 languages from over 120 countries. These include the major world languages such as French, German, Spanish, all the EU languages, Russian, Arabic, Chinese, and Japanese etc., but also languages like Thai, Vietnamese, Uzbek, Swahili and Ukrainian. For example, there are 832 publications in Spanish – mainly from Spain but also from Latin America. 346 of these are newspapers, both national and regional including El País, Clarín, La Vanguardia and La Voz de Galicia.
There are 546 French publications including Libération, L'Équipe, Jeune Afrique, Nice Matin and Ouest France. Even if you are not totally fluent in the language you can, with a simple click, translate the page you are reading into English and 17 other languages. So, it's a particularly good tool for learners and improvers too. Also, at the click of a button you can listen to the page recorded by a native speaker in 63 languages, thus honing your listening and comprehension skills.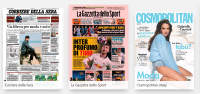 To access Press Reader, sign in with your Dublin City library membership card number.
Oxford Dictionaries
With this resource, you have access to online dictionaries, thesauri, translations, and language & culture reference content in 9 languages. These are English, Spanish, German, French, Italian, Portuguese, Russian, Chinese, and Arabic. Taking Spanish as an example, there is a search box where you type the word or phrase and click on Spanish to English or English to Spanish to get the desired translation.
With the resulting definition, you also see the word as used in sentences and some idioms including that word. There is a section with most popular and trending words and a 'test yourself' section with a series of ten quiz questions on vocabulary. In the Explore the Language section, you will discover comprehensive grammar resources, useful phrases, and writing resources.          
Oxford Dictionaries is can be accessed here.
If you are studying English, the OED Online gives you access to 600,000 words and phrases either by a quick search or browsing from A to Z. It shows not just definitions of words, but also their etymologies and use in quotations. To access Oxford English Dictionary Online, click on the 'Sign in' button on the top right hand of the screen and then enter your library card number where indicated and select' Dublin City Libraries'.
Universal Class
This resource offers a unique online education experience.  There are over 400 courses available. The self-paced courses involve real instructors to guide your learning, video-based lessons, and certificates of achievement. You can learn in your own time, at your own pace.  For those studying English, in the Language Arts category of courses you will find an ESL section (English as a Second Language) with a 7-hour course on basic Speaking Skills and Grammar Skills from Basic to Level 5, totalling 58 hours.
For example, Grammars Skills Level 1 has 32 video lessons including personal pronouns, the present and past simple tenses and frequency adverbs. You can choose to take the Certificate Course or the Video-Only course with no certificate. The Certificate Course includes assignments, printable lessons, instructor feedback, class email and class discussions. There are also courses on writing improvement and essay writing. Obviously, these can be taken even if English is your first language. There are also short Cultural Studies courses which can help you understand the culture and society which underpin a language. These are available for French, Spanish, Chinese, Japanese and one on Spanish cooking. To access Universal Class, register with your library card number and email address.
World Book Online
World Book Online is a suite of websites from the publishers of the famous World Book Encyclopaedia. Among these you will find one in French – L'Éncyclopédie Découverte with information on Peoples, Plants & Animals, Science & Maths, World Religions, History & Government and much more. A beginner-level reference source, Découverte provides users with a database written at basic French reading levels, suitable for primary level children, or even adult beginners. It also contains a visual dictionary and activities in French.
You will also find a Spanish language version called Enciclopedia Estudantil Hallazgos with the exact same content. Also in Spanish, there is Banco de Contenidos aulaPlaneta - an educational platform that allows access to up-to-date information through the use of virtual dictionaries, atlases, and a virtual museum. It contains content for ages 6 to 11 and 12 to 18 year olds, but an adult with intermediate level Spanish would find this a particularly good resource to improve their Spanish.
[To note: the French and Spanish resources outlined above have been made temporarily available during the pandemic to Dublin City Libraries by World Book Online, and may no longer be available to our members later this year.]
The Great Courses Library Collection
The Literature & Language section includes an English Grammar Bootcamp, a series of 24 lectures of about 30 minutes each, suitable for Upper Intermediate and Advanced students. Learning French (30 video lectures of about 45 minutes each) teaches you to conjugate verbs in the present, past, future, and conditional tenses in addition to practice pronunciation. It's not a French for travellers course but claims to give you a solid foundation in the language. There are also Learning Spanish and Learning Spanish level 2 courses (30 lectures in each).
For those who would like to try older languages, there are courses in Latin, Ancient Greek, and Biblical Hebrew – all with 36 lectures. There is even a course on Egyptian Hieroglyphics by the renowned Bob Brier. Note that each course mentioned has lots of ancillary resources. By clicking on Guidebook, you get a course workbook (245 pages in the case of learning Spanish) containing the lessons in more detail with exercises and an answer key.
Register for The Great Courses here.
TumbleBook Library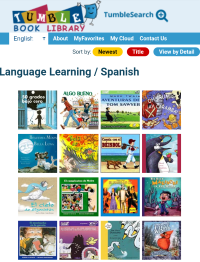 TumbleBook Library is a curated database of over 1100 children's e-books, and includes animated talking picture books, read-along chapter books, non-fiction books, graphic novels, and National Geographic videos. These are mostly in English but there are 58 books in Spanish and 54 in French, so your child can get some practice in these languages at an early age. Visit TumbleBook and sign in using your library membership card number or check out our how to video.
Good Luck!   Bonne Chance!  Go n-éirí an t-ádh libh! In bocca al lupo!