Online resources to help with language learning
Published on 3rd May 2023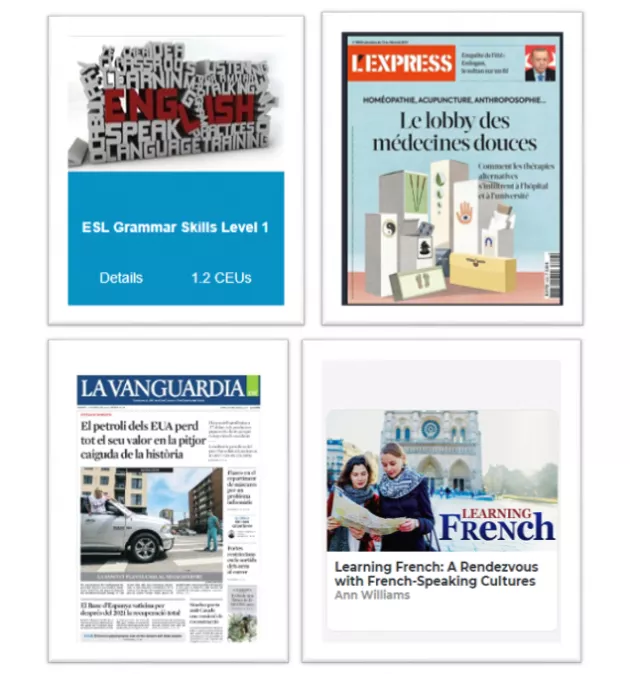 If you are interested in learning or improving a language (including English), our colleague Simon recently reviewed three of our excellent online resources: Transparent Language Online, uTalk, and Road to IELTS.
There are also a variety of other aids to language learning which you might not expect to find in our suite of online resources and which he outlines for you here.
Pressreader
You have free access to 7,400 publications with this online resource (yes, seven thousand four hundred!). From a language learning point of view, there are publications in 63 languages from over 120 countries. These include the major world languages such as French, German, Spanish, all the EU languages, Russian, Arabic, Chinese, and Japanese etc., but also languages like Thai, Vietnamese, Uzbek, Swahili and Ukrainian. For example, there are over 800 publications in Spanish – mainly from Spain but also from Latin America. 346 of these are newspapers, both national and regional including El País, Clarín, La Vanguardia and La Voz de Galicia.
There are over 500 French publications including Libération, L'Équipe, Jeune Afrique, Nice Matin and Ouest France. Even if you are not totally fluent in the language you can, with a simple click, translate the page you are reading into English and 17 other languages. So, it's a particularly good tool for learners and improvers too. Also, at the click of a button you can listen to the page recorded by a native speaker in 63 languages, thus honing your listening and comprehension skills.
To access Press Reader, sign in with your Dublin City library membership card number.
Libby
Libby gives you access to 3,346 magazines and 2,586 books. Most are in English but there are 962 magazines covering 22 languages. Some languages have an extensive collection, such as Spanish (218 titles including Latin American Spanish), French (176), Chinese (102), Japanese (82), German (64), Italian (56) and Afrikaans (57). 
Titles include:
Spanish – Men's Health España, Hola Fashion, Semana and Vogue Latin America;
French – Paris Match, Elle, L'Express, Top Santé and La Revue du Vin de France;
Italian – Focus, Gente, Casa Naturale, and Food & Wine Italy;
Chinese – Bella, China Tourism and Business Today. 
Other languages with a small collection include Danish, Swedish, Portuguese, Bengali, Welsh, Arabic and Vietnamese.
There is a Juvenile collection (Kids & Teens) of 67 magazines, with 16 titles in 8 languages (Spanish, French, Italian, Chinese, Danish, Japanese, Portuguese and Russian).
To search for a particular language, click on the refine button on the right of your screen and select language.
To sign up to Libby, download the Libby app from Google Play - Android or iTunes - iOS, follow the prompts to find Dublin City Libraries, and register with your library card number and PIN. For more detailed information on using Libby, check out our how to video.
Oxford Dictionaries Premium & OED Online
With these resources, you have access to online dictionaries, thesauri, translations, as well as language & culture reference content in 9 languages. These are English,Arabic, Chinese, French, German, Italian, Portuguese, Russian, and Spanish .
Taking Spanish as an example, there is a search box where you type the word or phrase and click on Spanish to English or English to Spanish to get the desired translation.
With the resulting definition, you also see the word as used in sentences and some idioms including that word. There is a section with most popular and trending words and a 'test yourself' section with a series of ten quiz questions on vocabulary. In the Explore the Language section, you will discover comprehensive grammar resources, useful phrases, and writing resources.
If you are studying English, the Oxford English Dictionary (OED) online gives you access to 600,000 words and phrases either by a quick search or browsing from A to Z. It shows not just definitions of words, but also their etymologies and use in quotations. To access Oxford English Dictionary Online, click on the 'Sign in' button on the top right hand of the screen and then enter your library card number where indicated and select 'Dublin City Libraries'.
Have a look at some of their short video guides to help you get the most out of your OED use.
Universal Class
This resource offers a unique online education experience.  There are over 400 courses available. The self-paced courses involve real instructors to guide your learning, video-based lessons, and certificates of achievement. You can learn in your own time, at your own pace.  For those studying English, in the Language Arts category of courses you will find an ESL section (English as a Second Language) with a 7-hour course on basic Speaking Skills and Grammar Skills from Basic to Level 5, totalling 58 hours.
For example, Grammars Skills Level 1 has 32 video lessons including personal pronouns, the present and past simple tenses and frequency adverbs. You can choose to take the Certificate Course or the Video-Only course with no certificate. The Certificate Course includes assignments, printable lessons, instructor feedback, class email and class discussions. There are also courses on writing improvement and essay writing. Obviously, these can be taken even if English is your first language. There are also short Cultural Studies courses which can help you understand the culture and society which underpin a language. These are available for French, Spanish, Chinese, Japanese and one on Spanish cooking.
Register for Universal Class, with your library card number and email address. Or find it on the Libby app via the Extras link.
The Great Courses Library Collection
The Literature & Language section includes an English Grammar Bootcamp, a series of 24 lectures of about 30 minutes each, suitable for Upper Intermediate and Advanced students. Learning French (30 video lectures of about 45 minutes each) teaches you to conjugate verbs in the present, past, future, and conditional tenses in addition to practice pronunciation. It's not a French for travellers course but claims to give you a solid foundation in the language. There are also Learning Spanish and Learning Spanish level 2 courses (30 lectures in each).
For those who would like to try older languages, there are courses in Latin, Ancient Greek, and Biblical Hebrew – all with 36 lectures. There is even a course on Egyptian Hieroglyphics by the renowned Bob Brier. Note that each course mentioned has lots of ancillary resources. By clicking on Guidebook, you get a course workbook (245 pages in the case of learning Spanish) containing the lessons in more detail with exercises and an answer key.
You can access as many courses as you want to for 7 days. After 7 days, simply log in again and get another 7 day's access.
To access the Great Courses, click on the Extras link on the Libby app (available to install on your device from Google Play - Android or iTunes - iOS).
TumbleBook Library
TumbleBook Library is a curated database of over 1,100 children's eBooks, and includes animated talking picture books, read-along chapter books, non-fiction books, graphic novels, and National Geographic videos. These are mostly in English but there are books in Spanish and in French, so your child can get some practice in these languages at an early age. Visit TumbleBook and sign in using your library membership card number or check out our how to video.
Check out our Dublin City Libraries blog posts for more information on the wide range of online reference and research tools we offer. Or have a look at out our website for a full list of all our online resources. 
If you don't have a library card, contact your local library and they will help you to join. See more information on library membership.
If you have any queries or if you registered online and can't access any of these resources, you can also contact us at [email protected].
Good Luck!  Bonne Chance!  Go n-éirí an t-ádh libh! In bocca al lupo!