Most borrowed books in Dublin City Libraries this year
Published on 20th July 2023
Curious to know what other people are reading? Well, here's a look at some of the most borrowed books by Dublin City library members so far this year. 
This year's One Dublin One Book title is head of the list, with Dublin Literary Award winners and shortlisted titles also featuring. And it's great as always to see Irish writers making a very strong showing. 
The Heartstopper series is a firm favourite with young adults, and the Less Stress More Success series continues to be the go-to choice for exam preparation. The Diary of a Wimpy Kid series and Guinness World Records remain a perennial favourite for children, along with some top picks from Irish writers such as Boot and Animal Crackers.
You can reserve books online and collect from a library of your choice. Or drop into your local library for a browse and to see what's on offer. There's lots of great books to choose from, and friendly, helpful library staff to advise and guide you.
Popular books without the wait
Our short loan collection is a great way to beat long reserve queues on bestsellers.  Drop into your local library and see what's available and then borrow your chosen book for 10 days. This special collection of popular books cannot be renewed or reserved. 
If you don't have a library card at the moment or if you need to renew your library membership, contact your local library and they will help you; here is more information on library membership. Or contact us at [email protected]. We're always happy to help.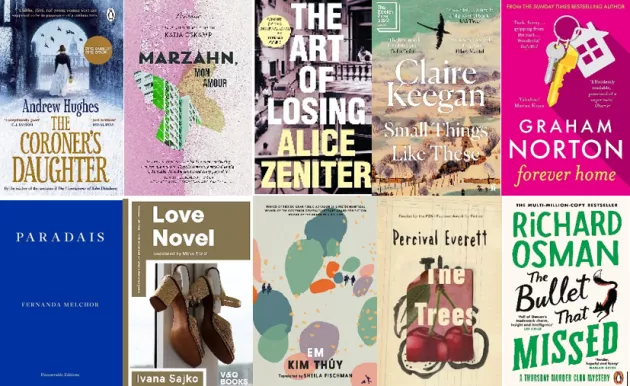 Books most borrowed by adults
Fiction
The Coroner's Daughter by Andrew Hughes (One Dublin One Book 2023)
Marzahn, Mon Amout by Katja Oskamp, translated by Jo Heinrich (Dublin Literary Award winner 2023)
The Art of Losing by Alice Zeniter, translated by Frank Wynne (Dublin Literary Award winner 2022)
Small Things Like These by Claire Keegan
Forever Home by Graham Norton
Paradais by Fernanda Mechor, translated by Sophie Hughes (Dublin Literary Shortlist 2023)
Love Novel by Ivana Sajko, translated by Mima Simić (Dublin Literary Shortlist 2023)
Em by Kim Thúy, translated by Sheila Fischman (Dublin Literary Shortlist 2023)
The Trees by Percival Everett (Dublin Literary Shortlist 2023)
The Bullet that Missed: A Thursday Murder Club Mystery by Richard Osman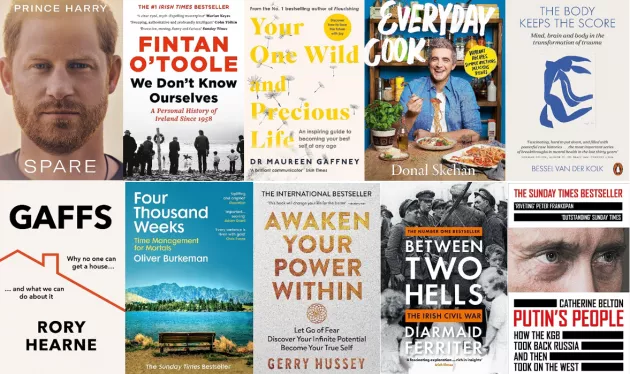 Non-fiction
Spare by Prince Harry
We Don't Know Ourselves: A Personal History of Ireland since 1958 by Fintan O'Toole
Your One Wild and Precious Life: An Inspiring Guide to Becoming your Best Self at Any Age by Dr. Maureen Gaffney
Everyday Cook : Vibrant Recipes, Simple Methods, Delicious Dishes by Donal Skehan
The Body Keeps Score: Mind, Brain and Body in the Transformation of Trauma by Bessel van der Kolk
Gaffs: Why No One Can Get a House, and What We Can Do About It by Rory Hearne
Four Thousand Weeks: Time Management for Mortals by Oliver Burkeman
Between Two Hells: The Irish Civil War by Diarmaid Ferriter
Awaken your Power Within: Let Go of Fear, Discover your Infinite Potential, Become your True Self by Gerry Hussey
Putin's People: How the KGB Took Back Russia and Then Took on the West by Catherine Belton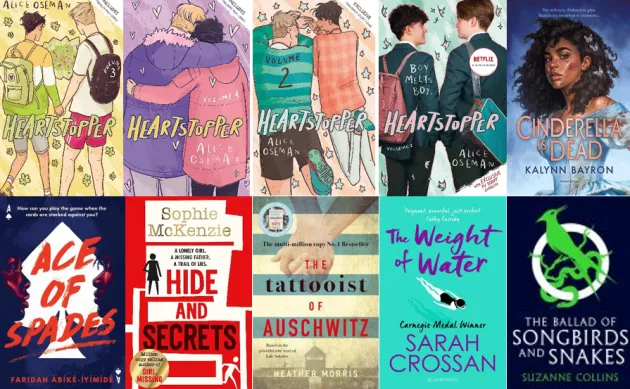 Books most borrowed by young people
Fiction
Heartstopper Volume 3 by Alice Oseman
Heartstopper Volume 4 by Alice Oseman
Heartstopper Volume 2 by Alice Oseman
Heartstopper Volume 1 by Alice Oseman
Cinderella is Dead by Kalynn Bayron
Ace of Spades by Faridah Àbíké-Íyímídé
Hide and Secrets by Sophie McKenzie
The Tattooist of Auschwitz by Heather Morris
The Weight of Water by Sarah Crossan
The Ballad of Songbirds and Snakes: A Hunger Games Novel by Suzanne Collins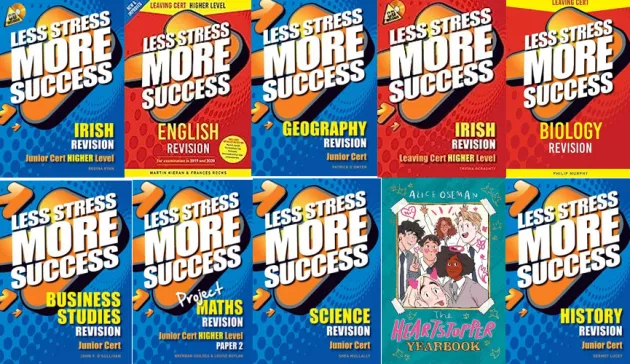 Non-fiction
Less Stress More Success: Irish Revision Junior Cert Higher Level by Regina Ryan
Less Stress More Success: English Revision Leaving Cert Higher Level by Martin Kieran and Frances Rocks
Less Stress More Success: Geography Revision Junior Cert by Patrick O'Dwyer
Less Stress More Success: Irish Revision Leaving Cert Higher Level by Triona Geraghty
Less Stress More Success: Biology Revision Leaving Cert by Philip Murphy
Less Stress More Success: Business Studies Revision Junior Cert by John F. O'Sullivan
Less Stress More Success: Project MATHS Revision Junior Cert by Brendan Guildea and Louise Boylan
Less Stress More Success: Science Revision Junior Cert by Shea Mullally
The Heartstopper Yearbook by Alice Oseman
Less Stress More Success: History Revision Junior Cert by Dermot Lucey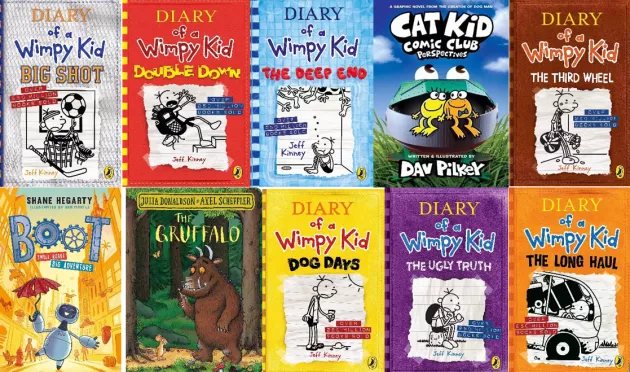 Books most borrowed by children
Fiction
Big Shot: Diary of a Wimpy Kid by Jeff Kinney
Double Down: Diary of a Wimpy Kid by Jeff Kinney
The Deep End : Diary of a Wimpy Kid by Jeff Kinney
Cat Kid Comic Club: Perspectives by Dav Pilkey
The Third Wheel: Diary of a Wimpy Kid by Jeff Kinney
Boot: Small Robot, Big Adventure by Shane Hegarty, illustrated by Ben Mantle
The Gruffalo by Julia Donaldson, illustrated by Axel Scheffler
Dog Days: Diary of a Wimpy Kid by Jeff Kinney
The Ugly Truth: Diary of a Wimpy Kid by Jeff Kinney
The Long Haul: Diary of a Wimpy Kid by Jeff Kinney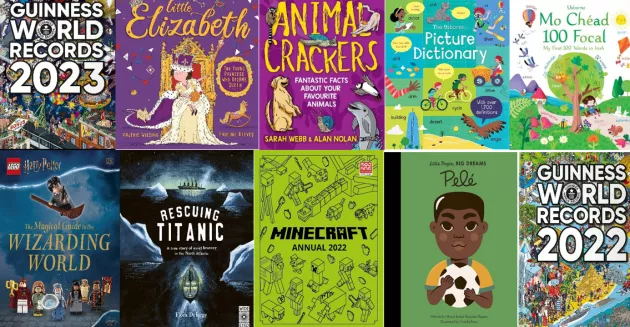 Non-fiction
Guinness World Records 2023
Little Elizabeth: The Young Princess who became Queen by Valerie Wilding, illustrated by Pauline Reeves
Animal Crackers: Fantastic Facts about your Favourite Animal by Sarah Webb and Alan Nolan
The Usborne Picture Dictionary by Caroline Young, illustrated by SR Sanchez
Mo Chéad 100 Focail = My First 100 Words in Irish by Felicity Brooks; illustrated by Sophia Touliatou; translated by Máire Mhic Giolla Rua
LEGO Harry Potter: The Magical Guide to the Wizarding World by Elizabeth Dowsett
Rescuing Titanic: A True Story of Quiet Bravery in the North Atlantic by Flora Delargy
Minecraft Annual 2022
Pelé by Maria Isabel Sánchez Vergara, illustrated by Camila Rosa
Guinness World Records 2022