Staff Picks: Adult Non-fiction
Published on 5th December 2022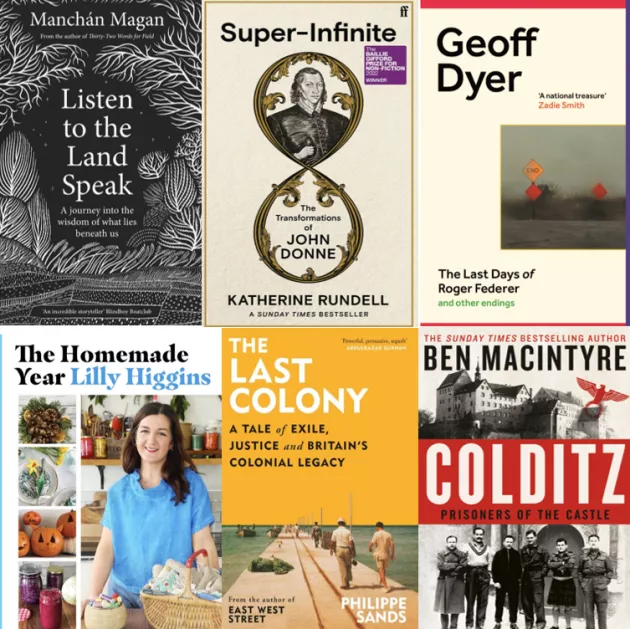 Adult Non-Fiction 
Listen to the Land Speak by Manchán Magan: in this illuminating new book, Manchán Magan uncovers the ancient myths that have shaped our national identity and are embedded in the strata of land that have endured through millennia – from ice ages through to famines and floods.
Super-Infinite: The Transformations of John Donne by Katherine Rundell: winner of the Baillie Gifford Prize for Non-Fiction 2022, intelligent and witty, a triumphant account of the myriad lives of John Donne.
The Last Days of Roger Federer: And Other Endings by Geoff Dyer: a book about the feeling of time running out – erudite, witty and thought-provoking.
The Homemade Year: Things To Make, Do And Eat At Home To Welcome Every Season by Lilly Higgins: the ultimate modern homemaker, Lilly Higgins shares over 70 things to make, do and eat at home.
The Last Colony: A Tale of Exile, Justice and Britain's Colonial Legacy by Philippe Sands: this title illuminates the continuing horrors of colonial rule, the devastating impact of Britain's racist grip on its last colony in Africa, and the struggle for justice in the face of a crime against humanity. 
Colditz: Prisoners of the Castle by Ben Macintyre: this astonishing inside story is a tale of the indomitable human spirit, but also one of snobbery, class conflict, homosexuality, bullying, espionage, boredom, insanity and farce.