Staff Picks: fiction, sci fi, and thrillers
Published on 5th December 2022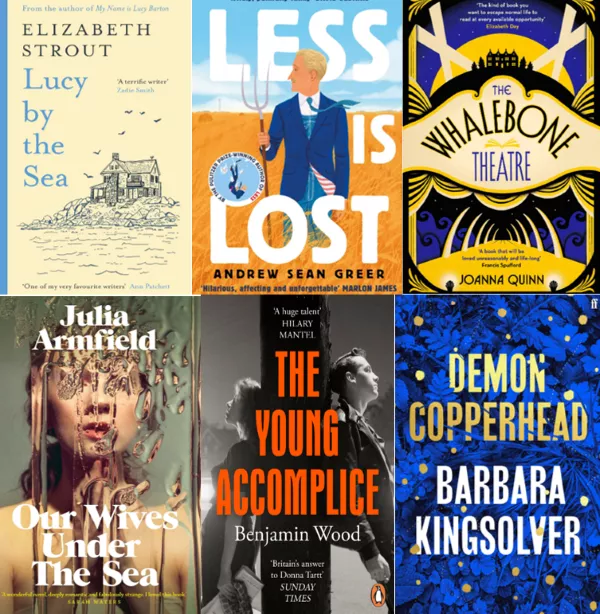 Adult fiction
Lucy by the Sea by Elizabeth Strout: a poignant novel about a divorced couple stuck together during lockdown.
Less is Lost by Andrew Sean Greer: follow up to the award winning Less, our protagonist returns for an unforgettable road trip across America.
The Whalebone Theatre by Joanna Quinn: a beautifully-written debut novel that follows the lives of three children growing up on the south coast of England as the Second World War approaches.
Our Wives Under the Sea by Julia Armfeld: Miri thinks she has got her wife back when Leah finally returns after a deep sea mission that ended in catastrophe. It soon becomes clear though that Leah may have come back wrong – gorgeous and unnerving.
The Young Accomplice by Benjamin Wood: a masterful and suspenseful novel touching on themes of innocence and wrongdoing.
Demon Copperhead by Barbara Kingsolver: Demon's story begins with his traumatic birth to a single mother in the Appalachian mountains – a complex, powerful and beautifully written story.
Some favourites from Irish writers
Nora: A Love Story of Nora Barnacle and James Joyce by Nuala O'Connor: The One Dublin One Book choice for 2022, Nora is a fictionalised account of the life of literature's greatest muse, a story told with passion, emotion and authenticity.
Trespasses by Louise Kennedy: an affair between a young Catholic woman and a married Protestant barrister drives this brilliant debut set in 1975 Belfast – a beautiful and devastating piece of work.
Queen of Dirt Island by Donal Ryan: a tale of loyalty and betrayal, of isolation, transgression and forgiveness, a beautiful and powerful piece of writing.
The Raptures by Jan Carson: When several children from the same village start succumbing to a mysterious illness, the quest to discover the cause has devastating and extraordinary consequences – a compulsive and gripping read.
Duffy and Son by Damien Owens: a heart-warming tale from one of Ireland's most gifted comic writers.
Small Things Like These by Claire Keegan: an exquisite winter tale of courage and its cost, set in Catholic Ireland, a remarkable book.
Dance Move by Wendy Erskine: in these stories, Erskine's characters' wishes and hopes often fall short of their grasp – funny, heart-breaking and brilliant.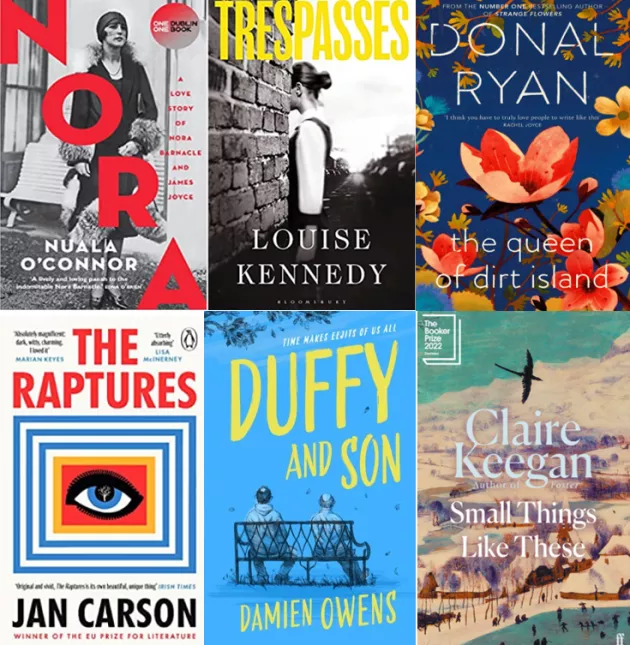 Books in Translation
The Art of Losing by Alice Zeniter, translated from French by Frank Wynne: winner of the International Dublin Literary Award 2022, a remarkable novel that spans three generations across 70 years, a tale of immigration, of loss and identity.
1000 Coils of Fear by Olivia Wenzel, translated from German by Priscilla Lane: a confident debut, tender and bold.
Crime and thrillers
Two Nights in Lisbon by Chris Pavone: A woman wakes up to discover her new husband is missing and sets out on a wild race of power, politics, and revenge – intelligent, timely and layered with suspense.
City on Fire by Don Winslow: set in Providence New York in 1986, this is the first in a new trilogy about an Irish crime syndicate.
Bad Actors by Mick Herron: book 8 of the Slough House series, this is a pitch-perfect spy thriller.
The Bookseller of Inverness by S.G. Maclean: an intricately plotted historical thriller, fast-paced and intriguing.
The Furies by John Connolly: another compelling and unsettling Charlie Parker novel.
The Belladonna Maze by Sinéad Crowley: a story of old secrets and forbidden passion, spine-tingling and atmospheric.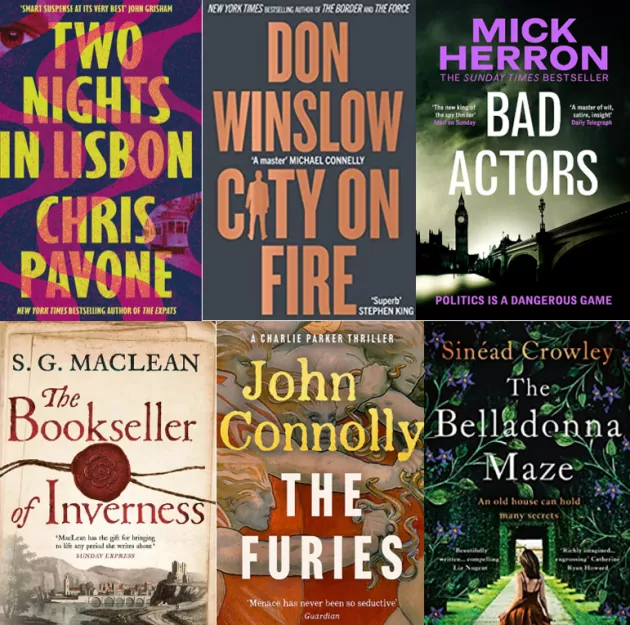 Sci Fi and Fantasy
The Book Eaters by Sunyi Dean: hidden across England and Scotland live six old Book Eater families, the last of their kind – a creepy, immersive and deftly-plotted fantasy horror.
The Women Could Fly by Megan Giddings: a dystopian tale about the unbreakable bond between a young woman and her absent mother, set in a world in which magic is real and single women are closely monitored in case they are shown to be witches. 
Moon Witch, Spider King by Marlon James: in this stunning follow-up to Black Leopard, Red Wolf, the author draws on a rich tradition of African mythology, fantasy and history to imagine a mythic world.