Staff Picks: Poetry and short stories
Published on 9th December 2022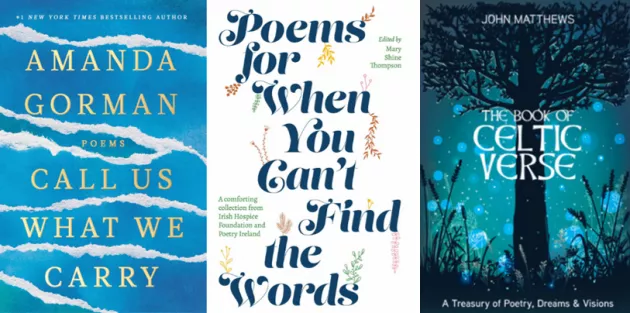 Poetry
Steering by the Stars by Matt Mooney. "To borrow a line from the author, here is a book "where dreams are born again". 
What day is it? : who gives a f*ck by Jan Brierton. Dubliner Jan Brierton wrote her first poem in January 2021. Dubliner Jan Brierton wrote her first poem in January 2021.
Look! It's a woman writer! : Irish literary feminisms, 1970-2020 / edited by Éilís Ní Dhuibhne. Look! It's a Woman Writer! is a collection of essays by 21 writers from the Republic of Ireland and Northern Ireland who were born in the 1950s and early 1960s.
Call Us What We Carry: poems by Amanda Gorman: including The Hill We Climb, the stirring poem read at the inauguration of the 46th President of the United States, Joe Biden, this remarkable collection reveals an energizing and unforgettable voice in American poetry.
Poems For When You Can't Find The Words – The Irish Hospice Foundation, edited by Mary Shine Thompson: created in conjunction with Poetry Ireland and including poems from Seamus Heaney, Brendan Kennelly, Emily Dickinson and Paul Durcan, this is a collection of words to comfort in the most troubled times. 
The Book of Celtic Verse: A Treasury of Poetry, Dreams & Visions collected by John Matthews: this selection of Celtic poetry reflects aspects of the Celtic tradition that include nature, history, and a rich heritage of myth, legend, magic and spirituality.
Short stories
Trouble by Philip Ó Ceallaighis both a meditation on human frailty and an unflinching interrogation of love—of its losses and gains, and the surprising ways that it delivers purpose and meaning to our lives.
Dance Move by Wendy Erskine: in these stories, Erskine's characters' wishes and hopes often fall short of their grasp – funny, heart-breaking and brilliant.
Marple: Twelve New Stories by twelve best-selling and acclaimed authors; based on characters created by Agatha Christie.
This Train Is For… by Bernie McGill: this new collection contains unpublished stories along with a number of previously published stories featured within award winning anthologies.