The Tearling Trilogy by Erika Johansen
Published on 7th May 2020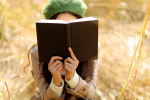 Although I am way past reading young adult fiction (agewise, that is), I do love it. I devoured 'The Hunger Games' by Suzanne Collins and 'The Divergent Trilogy' by Veronica Roth. So when a borrower recommended the 'Tearling Trilogy' by Erika Johansen, I gave it a try and I was hooked.

The 'Tearling Trilogy' is a dystopian novel  with elements of fairy tales and dark magic. The first book, The Queen of the Tearling, is set in an area called the Tearling somewhere in the middle of a mystical ocean around three hundred years after the 9/11 events in the United States. Time is counted as before and after 'the Crossing' when a small group of citizens fled a dictatorial United States to set up their own utopian territory. The main character, Kelsea Glynn, is a feisty young woman who had been hidden away and brought up in secret after her queen mother had mysteriously disappeared and thought to have been murdered.
Kelsea has been prepared for her future role from childhood onwards and yet she has been kept in the dark about the kingdom's dark past and present. When she turns nineteen, she inherits a deeply divided country full of corruption and dark powers that is subjugated by the Red Queen of rivalling kingdom, Mortesme.  Kelsea sets out to win the support of her people and to defend the Tearling with the help of the Royal Guard who are sworn to defend the Queen to the death.


In the subsequent books, The Invasion of the Tearling and The Fate of the Tearling, as Kelsea fights the Red Queen and her army, she develops a mysterious connection to the pre-Crossing United States and to a woman called Lily Mayhew. Through Lily she learns about the time before the Crossing  which might hold the key to her own and the Tearling's survival. This trilogy is a crossover between adult and older young adult fiction. Judging by the reviews on Goodreads, it seems that this is one of those novels that you either love or hate. I loved it.
Access eBooks/eAudiobooks on your phone, tablet or reader. Once you have installed the app, search for Dublin in the 'Library' field provided and then sign in using your library membership card number and PIN. Members of other library authorities will need to access BorrowBox using a different link.
Submitted by Charlotte from Donaghmede Library.