Toddler and Baby Wobbler fun at Ballymun Library
Published on 31st October 2019

October was a busy month at Ballymun Library for children's activities with many events organised in conjunction with Children's Book Festival 2019 and Stemsational Saturdays' activities for 8 to 12 year olds to name but a few.
This time of year wouldn't be complete without the Library's dedicated Hallowe'en storytelling sessions for 0 to 4 year olds. These took place on the 29th of October at 10am and 11am, respectively. Most of the attendees dressed up for the occasion and had a spooktacular time.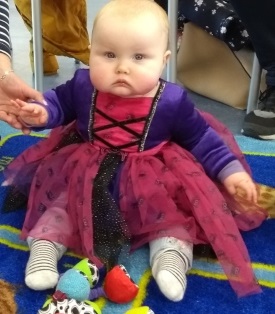 Millie Donnelly dressed as a witch at the Baby/Wobbler Hallowe'en Book Club. At the baby session, the book 'Spot's Spooky Fun' by Eric Hill was read by Maria Sheahan (Librarian). Eric Hill has written many stories for babies including 'Spot Says Goodnight' and 'Spot Goes to School'. This is a lovely story for babies and wobblers where Spot has the difficult task of deciding which costume he should wear for Hallowe'en. The group was captivated proving this story is a perfect Hallowe'en read for young babies.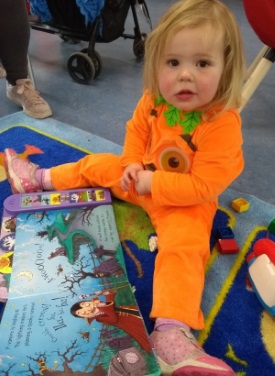 The Toddlers heard the story 'Usborne Noisy Spooky Book'. As you can see from the photos, this book is always a big hit with small children! Isabella Forsyth is the dashing pumpkin and Amelia Sweeney is batgirl. They love hearing the creepy sound effects that go with the story and it's a fun choice for grown-ups to read! Hallowe'en rhymes were also taught to the children after each storytelling session. Finally, toys and sweet treats were provided to complete the sessions.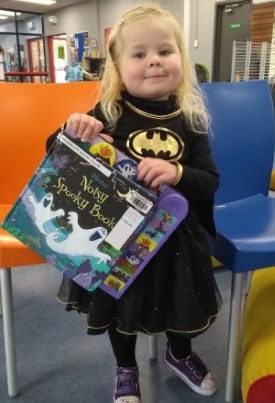 Ballymun Library's Book Clubs for Younger Children will continue on a weekly basis on Tuesdays during November and early December.  The Baby/Wobbler Book Club (0 to 2 Year Olds) runs from 10.00am to 10.45am and the Toddler Book Club (2 Year Olds to pre-school age) runs from 11.00am to 11.45am.  No advance booking is necessary.
Join us each week in making family reading a magical and fun experience!