We need to talk about Norman
Published on 3rd November 2020
One's first impression of the small village of Pontapandy, the setting of the children's book and television series Fireman Sam, is the gargantuan size of its fire service. State of the art choppers and fire engines, NASA style banks of computer screens, experimental mathematical forecasting models, top secret cognitive tools and a workforce that comprises of more than half of the populace of Pontypandy, would not look out of place in a futuristic, mega wealthy Scandanavian metropolis under a daily barrage of Martian bozar laser canon. Why does Pontypandy have such a comprehensive fire service strategy? The answer: daily arson attacks carried out by the ginger mopped, spud faced nipper, Norman Price.
Friendless and charmless, seven year old Norman Price spends his days goosed out on sweets, roaming the streets of Pontypandy and its environs setting fire to every animal, vegetable and mineral he comes across. The more Norman tries to make friends, the more people are repulsed by him. His rasping, screeching, whiny voice is the opposite of the beautiful, deep and melodic timbre of Richard Burton; even the animals of Pontypandy find Norman Price abhorrent. The absence of wildlife and domestic pets can be explained by 'The Unexplained Circumstances Surrounding Fire #214 in the Pontypandy Region': Norman tries to make friends with the local stray dogs; when rebuffed, Norman takes matters into his own hands:
'Look at you looking so pretty and so proud.' 
'Woof!'
'Well if I can't have you, nobody can!'
'Woof!'
(Strike. Ffffffft. Fumf. Sizzle.)
'Yelp! Yelp!'
'I better tell Mam that I want Hot Dogs for dinner. Tee Hee! Tee Hee!'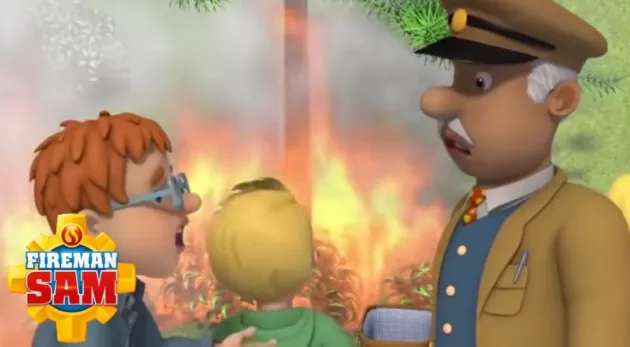 Norman's pyromaniac behaviour grew exponentially around the time of the mysterious disappearance of his father, which occured at the same time as: 'The Unexplained Circumstances Surrounding Fire #35 in the Pontypandy Region':
'Please put the matches down, Norman!'
'Look you, Dada! I told you that you'd regret not letting me have Coco Pops for dinner.'
'For the love of God Norman, please let me out of here! You can have Sugar Puffs for Christmas dinner!'
'Too late! Too late! Nobody tells Norman Price what to do.'
(Strike. Fumf. 'Oh, Christ no! Help! Help! Aaaaaagh'. Sizzle)
'Looks like it'll be roasted Dada for Christmas dinner! Tee Hee. Tee Hee'
How does Norman Price's behaviour fit into the tradition of evil children in literature? Norman's cruel and stupid behaviour is reminiscent of Joffrey Baratheon's conduct in The Game of Thrones : stupid, cruel and impulsive. Their ad-hoc orgies of violence are the antithesis of the actions of the little smart-arses in Henry James's The Turn of the Screw or the exploits of the irksome youngsters in John Wyndham's The Midwich Cuckoos: these little perishers are cold, aloof, intelligent and their use violence and psychological combat is a tactical means to reach their strategic ends.
If Norman isn't allowed a brand new Xtreme Nerf gun, he'll burn the bloody toy shop down; if the crypto-Nazi munchkins in The Midwich Cuckoos are forbidden from extending the xenogenesis programme formulated by their alien parasitic potentates, they'll initiate a psychic attack on the atomic reactors in Windscale, not out of any deviant pleasure they may obtain from their bad behaviour but because they rationally calculate that it will further their aims. These youngsters need less Miriam Stoppard and Benjamin Spock and more R Lee Ermey's Drill Sergeant from Full Metal Jacket.  
Fireman Sam books and DVDs, The A Song of Fire and Ice series of books by George R.R. Martin, The Midwich Cuckoos by John Wyndham, and The Turn of the Screw by Henry James, are all available from Dublin City Libraries but unfortunately hardcopies are not borrowable presently under Level 5 restrictions, but please check out the digital copies on Borrowbox. 
Access Borrowbox on your phone, tablet or reader. Once you have installed the app, search for Dublin in the 'Library' field provided and then sign in using your library membership card number and PIN. Watch our how to video on Borrowbox. Members of other library authorities will need to log in using a different link.
Submitted by Tom from Drumcondra Library.