What YOU do in the Creative Studio?
Published on 16th September 2022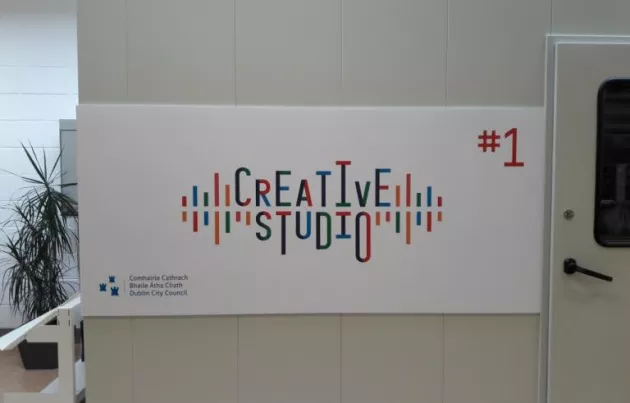 After being closed during the pandemic the Creative Studio has reopened for business. The studio is located in Ballyfermot Library.
What do you do with the space? 
This is a flavour of what you, the people, do with that space. 
Brothers with guitars record their music. They'd get honey for nothin' and chips for free. The Audiobook narrator, has a deadline soon and is starting college; she only needs the space as she has her own equipment. The ladies who record the wine tasting podcast only imbibe in small amounts AND outside the studio. No alcohol was consumed in the library - haha. 
The mum who brought her autistic son into the studio said he visibly relaxed in the silence.
This Saturday gone, the library had a full house! 
Studio One was occupied from 10am to 4.30pm and Studio Two from 10am to 3.30pm. Folk often come in on their own but might bring a friend along later for another few sessions.
Last year, whilst  the studio couldn't be used, lecturers from the Ballyfermot College of Further Education organised small numbers of students to take formal photographs for their portfolios using the green screen and lights in the space. We can only wonder what use they will make of the studios this year?
Ballyfermot Library is about to induct two of the lecturers in the media studies area and they will bring their students in to use the studios. They're really looking forward to using our toys.
We encourage studio users to give us a mention in whatever they're recording/broadcasting, that way we can raise the profile of what we offer for FREE: word-of-mouth marketing. 
Interested
To enquire further, contact Ballyfermot Library  E: [email protected]
Fill out the Creative Studio - Request to Use Facilities Form.