History on your Doorstep Volume 2 is out now
Published on 31st October 2019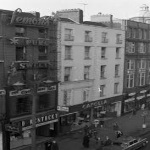 'History on your Doorstep' is back with a second volume of six short essays with the Historians in Residence bringing their research and stories to the page for your reading pleasure. Did you know that Lemon Street in Dublin city centre is named after Graham Lemon, the famous Dublin sweet-maker who set-up Lemon's Sweets in 1842? Or that the Dublin Cattle market in Stoneybatter was once the busiest in Europe?From the ground breaking St. Ultan's hospital for children, to the life-story of the gifted traditional musician Séamus Ennis, social housing on Dublin's southside 100 years ago or the city and the War of Independence, there is something to show the history of Dublin, wherever you are in the city.
'History on your Doorstep' is brought to you by Dublin City Council's Historian in Residence programme. A team of six Historians in Residence work across Dublin city to talk to people about history and promote its sources, especially documents, photos, and books in Dublin City Libraries and Archives. The project is an initiative of Dublin City Council under the Decade of Commemorations (1919-22) and strives to break down barriers to history.
History on your Doorstep Volume 2 is available in all Dublin City Libraries now in hardcopy only.
In case you missed a copy of History on your Doorstep Volume 1, check out our online version of the booklet. (PDF). Or reserve it on our catalogue.