Library Services for Early Learning Centres
Published on 20th May 2022
We're here to help by offering Early Learning Centres a wide range of information, resources, activities, and events.
We have a large collection of books and other items suitable for all ages. Contact your local library if you would like the following free support.
Class/ group visits
Groups and classes are welcome to visit their local library and choose their own books to borrow. Your local librarian can provide teachers with membership forms in advance and we will give a library tour on the first visit. Contact your local library and they can schedule a time that suits you.   
My Little Library
All children starting school in September can pick up a My Little Library bag from their local library. Each bag includes three books about starting school, being happy in yourself, and making friends. They also contain a story card on going to the library and a postcard the child can write or draw on and send to their new teacher, or bring to give to the teacher on their first day at school. If they join the library, they will get a library card and a card wallet for their new card.
Little Library Friendship Story: All early learning and care settings in the country can visit their library and pick up a free book on the theme of friendship and a booklet from Barnardos called 'Supporting Friendships in Early Learning and Care'.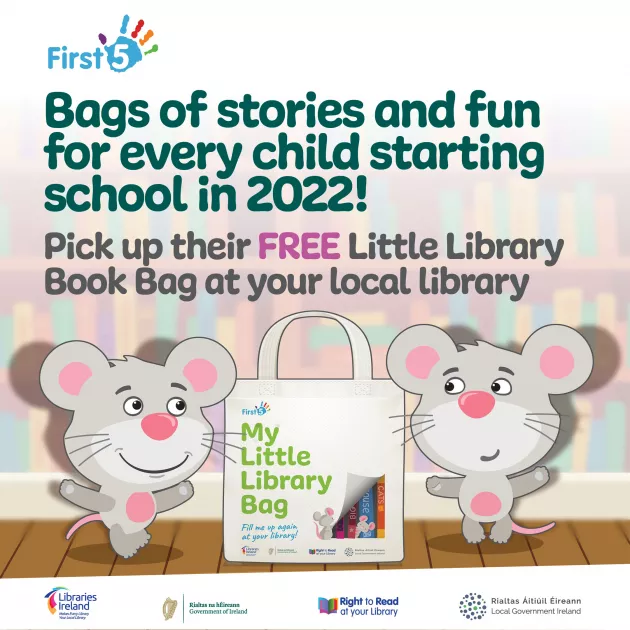 Education Card
All Early Learning Centres in the Dublin City area are eligible to open a library account called a 'Education Card'. This enables you to borrow 40 items from your local library for a period of 90 days. To obtain a card, please present proof of address (a current utility bill, etc.) and a letter from your ELC on headed paper stating that you are currently employed there. It's a great source of additional books!
You may collect the books from the branch library of your choice.
Events for Early Learning Centres 
From toddler groups to storytime, there are always lots of activities for families and children to enjoy in Dublin City Libraries. We host free events like special tours and storytelling for early learning centres. Please contact local library to register your interest. 
Right to Read is a national programme to promote literacy and reading development for people of all ages and backgrounds. It currently includes four national programmes designed to promote children's literacy and to foster a love of books and reading from an early age. 
Storytime Online
On Dublin City Libraries on YouTube and Vimeo you can find lots of storytelling and craft videos. 
In this video Cliath visits the library for the first time. Includes two stories and a puppet show.
To view this, you must update your

Sensory Services
Our Sensory Services collection has been developed to offer support to children with additional sensory needs, making libraries more accessible and welcoming for them. The collection includes Sensory Cubbies, Tovertafel (magic-table), sensory boxes and sensory hours. 
The Sensory Cubbie in Coolock Library and the sensory box items were provided by national sensory funding and Dormant Account Funding by The Department of Rural and Community Development.  
Children's Books on feelings and emotions
We provide books for children that help children as they learn about feelings and emotions. These books act as soft introductions to complex issues and are written in a way that young children can understand easily. The books initiate social awareness for children and allow them to understand themselves, others, and the world around them.  Ask at your local library. 
Topics covered:
   Dealing with feelings and emotions
   Choosing to do the right thing in different social situation
   Overcoming fears and anxieties
   How to make friends and interact with other people
   Behavioural books
   First Look series; at different life events and social issues
   New experiences and how your child can deal with them 
Online Resources
eBooks and eAudiobooks
BorrowBox, TumbleBook, LOTE Online for Kids
Comic Books and Graphic Novels
See: Libby Comics
Encyclopedias
See: World Book Online, Encyclopaedia Britannica
Language Learning
LOTE Online for Kids allows children to enjoy the magic of books in World Languages from the comfort of home. Each book is provided with an English translation to help develop multilingual reading and listening skills.
Read more about eResources for children.
Good to Know