Reach for a Read with the Library Locker
Published on 7th November 2022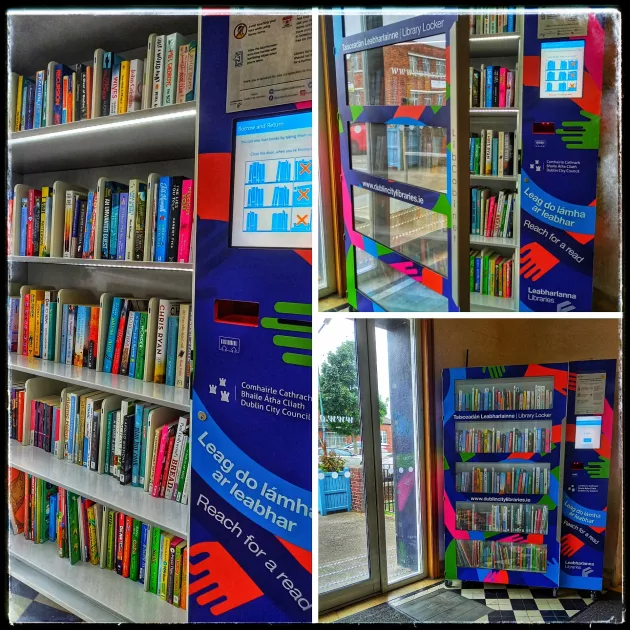 Reach for a Read with Dublin City Library Locker at Our Lady's Hall Community Centre, Drimnagh, Dublin 12!  Borrow and renew books by scanning your library card and entering your PIN. Access from 10am to 9pm Monday to Friday.
This service is brought to you by the Library in the Community (connect and give them a like on Facebook - @LibraryInTheCommunity); they also manage deliveries to housebound borrowers and  organise book collections for groups in the general community.  
Library Locker
The electronic lending cabinet holds books which may be accessed by library members by scanning their membership card and entering their PIN. It offers a lending and return service. Access the Library Locker at Our Lady's Hall from 10am to 2pm Monday to Friday. 
Louise, the Librarian responsible for the service announced: 
"There's a pop up library in the Orchard Centre, Cherry Orchard on the 6th of December; two staff members from Ballyfermot library are overseeing multiple storytimes and the pop-up library will be in place from 9.30am to 4ish. 
Students are brought over by their teacher to browse the books in the pop-up library, and find out how the library works! I'll also have a Christmas colouring competition on the day. So it's all happening. 
I've another presentation for the Ballymun University of the Third Age (U3A) group earmarked for December as well as collaborating with the Historian-in-Residence for Children around the provison of school workshops for late November/early December." 
To view this, you must update your

How does the Library Locker work?
Scan your library card and enter your PIN to unlock the door.
Open the door and select the items you wish to borrow or return items by placing the items on the shelf.
When you close the door, your account updates automatically; loans are added, returns removed.
You can print a receipt listing the items you have borrowed.
How many items can I borrow?
As a member of the library, you can borrow up to twelve items for three weeks in total on your account. 
Can I borrow from the Library Locker if I have joined online?
You need a valid library card to use the locker. Simply visit your nearest library with photo ID and proof of address (e.g. a bill for gas, electricity, phone; a bank statement, issued within the past six months) to apply for a library card. 
Can children use the Library Locker service?
Yes, but children must be supervised by a parent or guardian. Parents/guardians are responsible for their children's selections and library materials and services, including use of the library locker.
Can I renew my loans using the Library Locker?
No, the Library Locker offers lending and returns only. There is no access to your account details. Please contact your local branch library to renew items on your account or access your account online using your PIN. 
An error message 'Items cannot be loaned to you' comes up when I scan my card and put in my PIN. What do I do? 
This message means that your card is not working on the library system. It may have expired. Please contact your local branch library and staff will check for you. 
For further information, please contact Dolphin's Barn Library or Walkinstown Library or use our Ask A Librarian service Mon – Fri 10am – 12pm & 2pm – 4pm.