Richmond Barracks is a building of historical importance located in Inchicore.
Opening Hours
Today
Wednesday
10:00 – 17:00
| | |
| --- | --- |
| Monday | 10:00 – 17:00 |
| Tuesday | 10:00 – 17:00 |
| Wednesday | 10:00 – 17:00 |
| Thursday | 10:00 – 17:00 |
| Friday | 10:00 – 17:00 |
| Saturday | 10:00 – 17:00 |
| Sunday | Closed |
Opening Hours
Monday – Saturday: 10am – 5pm
Sunday: Closed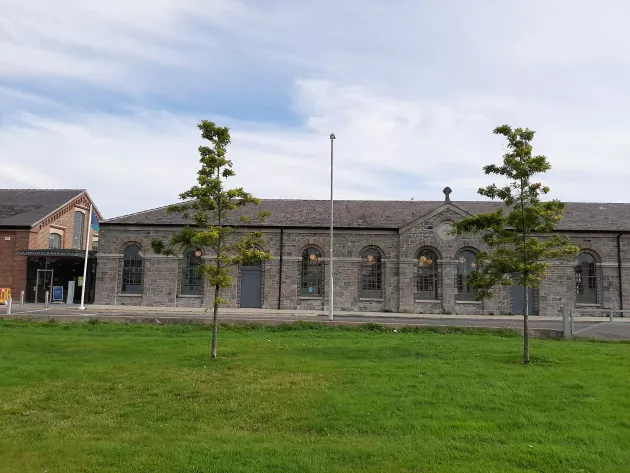 Built in 1810 in response to the threat of a French invasion in the Napoleonic Wars, Richmond Barracks was one of the British Army's largest barracks in Dublin at the time.
After the 1916 Easter Rising, Richmond Barracks would become a centrepiece in the fight for Irish Independence, housing over 3,000 suspected rebels before their sentencing. When the site was turned over to the Free State Army in 1922, it remained a keystone of working class Dublin, hosting a housing estate and a Christian Brothers' School.
In 2016, major refurbishment works were completed on Richmond Barracks as part of a Dublin City Council Community Partnership to restore and commemorate the heritage of the building. You can find out more about the refurbishment in the video below.
Today, visitors can experience walking tours that chart the history of the local area and the building as a military barracks, a significant site of the 1916 Rising, and as a cornerstone of a Dublin community.
Richmond Barracks is now also home to a library, garden, and Culture Connects, a programme of cultural activities that celebrate the experiences and interests of the local communities and people.
Richmond Barracks is owned by Dublin City Council and run by Dublin City Council Culture company.
Contact info
You can find out more about Richmond Barracks on its website.
Telephone 01 524 2532 or email [email protected]
Facilities
Café
Car Parking
Flower Garden
Accessibility
Richmond Barracks is wheelchair accessible.
Location
53.338362326127, -6.3161569833755
Address
Richmond Barracks
off Bulfin Rd
Inchicore
Dublin 8
Co. Dublin
D08 YY05
Ireland
Get Directions
Upcoming Events