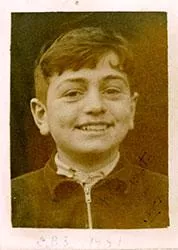 The Civics Institute of Ireland 1914 – 1960
The Civics Institute fostered the concept of town planning in Ireland and set up the Dublin Civic Survey Committee. In the 1930s the Institute extended its activities to include the establishment of Children's playgrounds and co-operated in the foundation of a Social Studies course in Trinity College Dublin.
Jacob's Biscuit Factory Archive
The archives of W & R Jacob and Company were acquired by Dublin City Library and Archive in 2012. Comprising both the business archives donated by Valeo Foods and the Appleyard Collection donated by Douglas Appleyard, the 330 boxes contain a wide range of records, relating to over 150 years of biscuit making in Dublin.
This archive represents a rich and significant contribution to the study of business and commercial life in Dublin in the late 19th and 20th centuries. It also offers valuable information about life in the community of over three thousand Dublin workers, mostly women, who were engaged at any given time during most of the company's manufacturing period.
Following a major cataloguing project, the collection was opened for public access in the Reading Room of Dublin City Library and Archive in 2016.
Search or browse the Jacob's Biscuit Factory Archive online.
General Factory Records
During cataloguing, the collection was arranged into different series such as administration, property, finance, engineering, manufacture, audiovisual, photographs, advertising, and artefacts Summary information regarding the history of the company and the content of each series can be viewed at the collection level description.
For detailed descriptions of items in the collection, please consult the Jacob's Biscuit Factory Archive Database in our Reading Room which has over 3,350 entries.
JAC/07 Jacob's Photographs
The photograph series comprises 240 files containing 8,400 loose photographs, albums, and slides. These files can be viewed in our Reading Room. We have also initiated a pilot project to make each individual photograph available online. Images which have been digitised and catalogued to date can be viewed at: https://repository.dri.ie/catalog/6w92hs96c
JAC/04 Human Resources Records
Individual employee records are not accessible via Jacobs Biscuit Factory Archive Database. Please read carefully our policy on accessing employee records and email us at [email protected] if you wish to make an enquiry.
Oral Histories
Dublin City Archives has carried out a number of oral history interviews to capture stories regarding Jacob's Biscuit Factory.
Ian Fox worked for Mack Kyle in Irish International Advertising for many years starting in the late 1960s. In this interview he recalls the origination of the 'Jim Figgerty' advertising campaign for W & R Jacob & Co and talks about the response it generated in the national media.
Gerry Griffin is the son of singer and actor Patrick Griffin who played the infamous Jim Figgerty in the Jacob's advertising campaign of the late 1960s and early '70s. He recounts stories of his fathers singing career before he took on the Figgerty role and his own experiences as a child when his father became identified as the famous missing fig roll filler.
John V. O'Connor Papers
This collection was created by Sean O'Connor in the course of his work on constructing the O'Connor family tree as well as writing his memoir 'Growing Up So High' (2013). His family lived in Dublin in the Liberties area for over seven generations and the collection contains documents accumulated by Sean O'Connor such as photographs, correspondence, personal diaries, religious ephemera, births, marriages, death certificates, and other material. Featured in the collection includes family links with the 1798 Rebellion, papers relating to James O'Neill and the Irish Civil War, and material relating to Joe O'Neill who worked as a Fianna Fáil organiser.
Image at top of page: Sean O'Connor at his school, Francis street CBS, 1951
Lee Family Papers
The collection contains material relating to both Edward Lee & Co. LTD and the Lee family. It includes photographs, books, booklets in addition to material relating to the First World War consisting of correspondence, medals and other military decorations.
The Lee family were drapers in Dublin with stores located in Rathmines, Dún Laoghaire, Mary Street, Abbey Street, Bray, County Wicklow and Tyrrellspass in County Westmeath.
The business was founded by Edward Lee (1853- 1927), and later changed to a private limited company in 1904 to become Edward Lee & Co. LTD. In 1878, Edward Lee married Annie Sheckleton (later Shackleton) from Dungar, County Offaly. The couple had nine children altogether though only four made it past infancy. The four surviving children all attended Trinity College, Dublin. Robert Ernest Lee became a medical doctor, Joseph Bagnall Lee attended the King's Inn to study to become a barrister, Edward Shackleton (Ted) Lee trained as an accountant and Alfred Tennyson Lee graduated with an M.A. Throughout his career, Edward Lee was concerned with the greater societal concerns of the time, and was vocal about the rights of the working classes which earned him a reputation as a conscientious employer, concerned with the welfare of his employees. Edward Lee was also strongly patriotic, and an avid supporter of Irish Industry.
Upon the outbreak of the First World War (1914- 1918) three of the four Lee sons joined the cause with the Royal Medical Army Corps and the Royal Munster Fusiliers. The effects of the War were keenly felt by the Lee family as two of the Lee sons were killed. Lieutenant Joseph Bagnall Lee was killed in action 7 August 1915 in Gallipoli, Turkey, while Robert Ernest Lee lost his life on 10 October 1918 on return from leave to France after the postal ship RMS Leinster, sank as a result of being torpedoed twice by the German submarine UB-123, on its way from Dún Laoghaire to Holyhead in Wales.  
The collection contains material relating to both Edward Lee & Co. LTD and the Lee family. Material relating to Edward Lee & Co. LTD contains material relating to the company's drapery stores while the material relating to the Lee family includes photographs, books, booklets and material relating to the First World War consisting of correspondence, medals and other military decorations. For more information regarding the Lee Family see Michael Lee, Edward Lee: Model Employer and Man of Moral Courage. (Dublin: Dún Laoghaire- Rathdown County Council, 2016).
Mount Street Club (1934-2006)
The Mount Street Club was established in 1934 by Philip Townsend Somerville-Large and Major James Hardress de Warrenne Waller to provide assistance to unemployed men in Dublin. The Club, was based at 81/82 Mount Street, Dublin 2 until 1974, and then moved to 62/63 Fenian Street. It worked on the principle that instead of handing out payments such as 'the dole' or charitable donations it was much better for men to work in providing for their own livelihood and that of their families.
The Club purchased a farm, 'Larkfield' in Clondalkin, Co. Dublin which gave the men employment and provided food and other materials for use in producing other goods. In the late 1980s the Club was involved with the community schemes of Grand Canal Docks Trust and the education and skills training of the Irish Nautical Trust. It was eventually dissolved in 2006. The collection includes minutes, correspondence, financial and legal records, reports, plans and photographs which paint a comprehensive picture of how the Club functioned.
Patrick English (1894-1970), Frongoch Letters
Patrick English (1894-1970) was part of the F. Company, 4th Battalion, Dublin Brigade who fought in the General Post Office Garrison in Easter 1916. After the surrender, he was imprisoned in Stafford, later transferred to Wormwood Scrubs and then interned in Frongoch, until he was released at Christmas 1916.
The collection consists mainly of correspondence between Patrick and various family members, discussing conditions in Frongoch and how his family were coping in Ireland without him. It also includes notes drafted by English about his actions during Easter Week, 1916. It was kindly donated to Dublin City Archives by his son – also named Patrick English.