New Publications from Dublin City Council
Published on 11th March 2016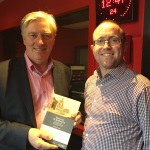 Seeing the year that's in it, Dublin City Council and its Library Service are delighted to be publishing three new titles in the Decade of Commemorations series. The first of these, 'Richmond Barracks 1916: We were there, 77 women of the Easter Rising', was launched  on Tuesday night last (8th March), and we just yesterday posted photos of the launch here on our blog.  Another publication in this series is due to follow in April, namely 'Dublin City Council and The 1916 Rising' edited by John Gibney. But lest you think that's it, read on!
Right: Finnian O Cionnaith was interviewed about his new book by Pat Kenny for The Pat Kenny Show on Newstalk 106-108FM. 
The first publication we delivered this year was that of the 18th annual Sir John T. Gilbert commemorative lecture, delivered in January 2015, titled 'Dublin in its Global Setting: From Wood Quay to Silicon City' and authored by Kevin Whelan. Details of the other seventeen titles in the series are also available on our Publications page.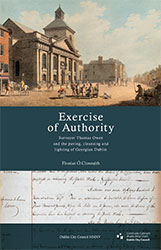 On the 10th February an tArdmhéara Críona Ní Dhálaigh launched a new book titled 'Exercise of Authority' and written by Finnian O'Cionnaith.  This book tells the story of the formative years of the Georgian Paving Board who were responsible for paving, cleansing and lighting of 18th century Dublin, from the viewpoint of one of its most important officers, surveyor Thomas Owen.
'Exercise of Authority' is the second in a new series of books issued by Dublin City Council which explores the engineering history and heritage of Dublin city. This richly-illustrated book is essential for a complete understanding of Georgian Dublin. The legacy of the Paving Board can still be seen today in the antique setts and granite kerbstones which can be found in Dublin's historic core.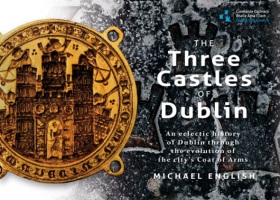 On Wednesday night last (9th March), an tArdmhéara Críona Ní Dhálaigh launched yet another new book, titled 'The Three Castles of Dublin' written by Michael English.  This fascinating and richly illustrated book follows the eclectic history of the city as it tracks the evolution of this notable graphic symbol that has remained the official symbol of the city for nearly 800 years.
Dublin City Council is also pleased to support two new books during this, the centenary of the 1916 Rising. These are 'The GPO Garrison Easter 1916: A Biographical Dictionary' by Jimmy Wren, and 'More than Concrete Blocks: Dublin's Buildings and Their Stories (Volume I, 1900-1939)', edited by Dr. Ellen Rowley (due in May 2016).
Most of the titles above are available for purchase from Four Courts Press and other bookshops, also to borrow from Dublin City Libraries.