Published on 24th May 2021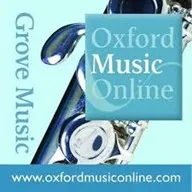 Oxford Music Online contains 1,000s of authoritative, peer-reviewed articles with rich supporting materials including bibliographies, media, and links to related resources. It includes comprehensive coverage of music, musicians, music-making, and music scholarship as well as charting the diverse history and cultures of music around the globe. This resource offers our library members the ability to search multiple music reference resources in one location: with Grove Music Online as its cornerstone, Oxford Music Online provides access to The Oxford Companion to Music which includes articles on composers, performers, conductors, instruments and notation, forms and genres, and individual works; and to The Oxford Dictionary of Music with content geared toward undergraduates and general users.
Grove Music Online is the world's premier online music encyclopedia, offering comprehensive coverage of music, musicians, music-making, and music scholarship. Updated frequently , Grove Music Online is an essential tool for anyone interested in researching, teaching, or just learning more about music. Written and edited by nearly 9,000 subject experts, Grove 's 51,000 articles offer clear overviews of topics from a scholarly perspective and include extensive bibliographies, which are curated to guide users through existing scholarship. Grove 's 33,000 biographical articles provide life information and detailed works lists for composers, performers, and other important musical figures. Grove Music Online also features more than 5,000 images, musical examples, and links to audio and video examples. It is the perfect starting point for scholarly research, but with a clear and engaging writing style, Grove is easily accessible to amateur music-lovers as well.
Revised for an online-only edition in 2011, The Oxford Companion to Music includes new and updated biographies, with a particular emphasis on contemporary composers; new terms; and improved cross-referencing. In articles that range from clear, concise definitions of musical ideas and terms to extended surveys of musical forms and styles, the Companion features authoritative coverage of virtually every musical subject.
More than 8,000 articles cover a huge range of subjects: composers, performers, conductors, individual works, instruments and notation, forms and genres. From the study of music — theory, aesthetics, scholarship — to the way it is performed and disseminated, the Companion provides comprehensive, accessible coverage of music in all its artistic, historical, cultural, and social dimensions.
With over 10,000 entries, The Oxford Dictionary of Music (previously the Concise Oxford Dictionary of Music ) offers broad coverage of a wide range of musical categories spanning many eras, including composers, librettists, sinters, orchestras, important ballets and operas, and musical instruments and their history. More than 250 new entries have been added to this edition to expand coverage of popular music, ethnomusicology, modern and contemporary composers, music analysis, and recording technology. Existing entries have been expanded where necessary to include more coverage of the reception of major works, and to include key new works and categories, such as multimedia.
To access the resources outlined here, simply enter your Dublin City library card number where indicated, and select Dublin City Libraries from the options given. Check out our blog posts for more information on our wide range of home study reference and research tools.
Or have a look at out our website for a full list of all our online resources. Don't have a library card? join here. If you can't access all our online resources with your online registration, or if you have queries or need any help, contact us at [email protected] and we'll sort you out.
Submitted by Reader and Bibliographic Services, Cabra Library & Bibliographic Centre.