Oxford Reference, including the Dictionary of Family Names in Britain & Ireland
Published on 20th August 2021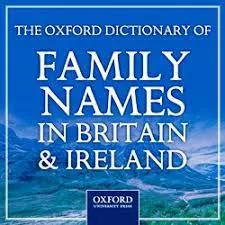 Oxford Reference spans a variety of different subject areas, bringing together approximately 2 million digitised entries from Oxford University Press's dictionaries, companions and encyclopedias. As you browse through this resource, you will find results that range from short-entry, general reference to more in-depth articles on specialized subjects, providing content for both quick fact-checking and for deeper research.
With your Dublin City library card, you can access the following 12 subject areas in this resource: Classical Dictionary, Communication, Criminology, Climate Science Education, Environmental Science,  International Studies, Literature Politics, Psychology, Religion, and Social Work. You also have access to 270 historic timelines organised by period, area, and theme.
It also offers access to a wide selection of dictionaries, companions and thesauri, including the following selection of titles:
The Oxford Dictionary of Family Names in Britain and Ireland is also available as part of the Oxford Reference collection. Containing over 45,000 entries, it is a hugely comprehensive reference work on family names, covering Irish, English, Scottish, Welsh, Cornish, and immigrant surnames. It includes every surname that currently has more than 100 bearers, and those that had more than 20 bearers in the 1881 UK census. Each entry contains lists of variant spellings of the name, an explanation of its origins (including the etymology), lists of early bearers showing evidence for formation and continuity from the date of formation down to the 19th century, geographical distribution, and, where relevant, genealogical and bibliographic notes. This guide also includes an introduction explaining the historical background, formation, and typology of surnames, and a guide to surnames research and family history research.
To access any of the resources outlined above, simply enter your library card number where indicated (usually to the top or to the left of the screen), and select Dublin City Libraries if an option is given.
Just to note, in some of the resources described here, not all content is accessible. You will spot these entries/articles because they have a small image of red lock beside them. To ensure that you only find available content in response to your searches, check 'Available' and 'Free' under the 'Availability' heading to the left of the screen.
Check out our Dublin City Libraries blog posts for more information on the wide range of reference and research tools that you may find useful when doing research for your writing, including art and music resources.
Or have a look at out our website for a full list of all our online resources.
If you don't have a library card, contact your local library and they will help you to join. More information on library membership.
If you have any queries or if you registered online and can't access any of these resources, you can also contact us at [email protected].
Submitted by Reader/Bibliographic Services