The Irish Theatre Archive, held at Dublin City Library and Archive has over 250 collections, and 100,000 individual items. It includes collections from theatres, theatre companies, individual actors, directors, costume and set designers, as well as theatre critics and fans.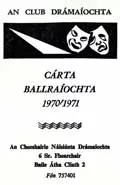 In the collection you can find theatre programs, handbills, posters, newspaper cuttings, stage managers books, production notes, costume and set designs, correspondence, administration files, scripts, photographs and recordings.
Please Note: We are moving our digital collections to the Digital Repository of Ireland. 
ITA/131 Jimmy O'Dea (1899-1965)
This collection chronicles the career of Jimmy O'Dea, from his early successes through to his long run at the Gaiety Theatre, Dublin. In the 1920s. O'Dea took part in amateur theatre productions and acted in several early Irish films produced by John MacDonagh. He then met entertainer and writer Harry O'Donovan and together they formed O'D Productions. In the late 1930s, O'D Productions was brought into the Gaiety Theatre by its manager, Louis Elliman and played there until O'Dea died in January 1965. From 1940-1965, O'Dea also continued to tour, most notably to Australia and New Zealand in 1961, and act in films, including Walt Disney's Darby O'Gill and The Little People (1959).
The collection includes programmes, playbills, posters, correspondence, production and financial files, memorabilia, press-cuttings, photographs and recordings. It also relates to the career of his wife Ursula Doyle, and other well-known performers such as Maureen Potter, Vernon Hayden, Harry O'Donovan, Micheál Mac Liammóir, Milo O'Shea, Danny Cummins, Noel Purcell, and Fred O'Donovan.
ITA/234 Risteárd O Glaisne (1927-2003)
I nDroichead na Bandan i gContae Chorcaí a rugadh agus a tógadh Risteárd O Glaisne sa bhliain 1927. Fuair sé a chuid oideachais fhoirmiúil i Scoil Ghramadaí an bhaile agus ina dhiaidh sin i gColáiste na Trionóide. Ba bhall den Eaglais Mhodhach é mar a raibh a mhuintir roimhe le blianta fada.
Chuir sé spéis in athbheochan na teanga agus sa chultúr Gaelach, go háirithe nuair a bhí sé ina mhacléinn i gColáiste na Trionóide sna daicheadaí. I lár na seascaidí in Éirinn bhí sé gnóthach sa Ghluaiseacht Éiciúméineach ó thús Vatacáin II.
Chaith sé os cionn tríocha bliain ina mhúinteoir, agus cuid mhaith ama ina iriseoir, ina chraoltóir, ina thaistealaí agus ina scríbhneoir. Tá an-chomaoin curtha ar an nGaeilge aige le méid na leabhar atá scríofa sa teanga aige agus le réimse leathan na n-ábhar iontu.
Bhi suim aige i gcúrsaí drámaíochta chomh maith, idir drámaíocht i nGaeilge agus i mBéarla. Bhi sé ar ceann de bhunaitheoiri an Club Drámaíochta sna caogadaí, club a bunaíodh chun drámaíocht i nGaeilge a chur chun cinn. Fuair Risteárd Ó Glaisne bás sa bhliain 2003 agus ar an dea-uair fágadh a chuid páipéir linn anseo sa Chartlann.
ITA/206 Turner Collection: Micheál Mac Liammóir Papers
Micheál Mac Liammóir (1899-1978) was born in England as Michael Alfred Wilmore and enjoyed success as a child actor on the London stage. He was Irish by ancestry, inclination and choice. He changed his name to Micheál MacLiammóir, and wrote plays in the Irish language.
In 1928, he founded the Gate Theatre with his partner Hilton Edwards. As well as being the leading actor, MacLiammóir also designed the stage sets and costumes, which has been identified as one of the key elements to the Gate's success. He toured extensively throughout the world during his career, achieving international renown, particularly for his one man show The importance of being Oscar. He and Hilton Edwards were jointly made Freeman of the City of Dublin in 1973.
The collection was donated by the family of his personal assistant Patricia Turner. It includes photographs, set and costume designs, correspondence, press-cuttings and memorabilia.
ITA/251 Vernon Hayden (1914-1990)
The actor Vernon Hayden was a stalwart of Irish theatre from 1930's until his death in 1990. Born c. 1914, in his early career Hayden toured with companies such as W.L Dobell, Richard Carrickford, and the famous pantomime company of Jim Johnson. In 1940, he joined O'D Productions, the company founded by Ireland's most famous music hall performer Jimmy O'Dea and his writing partner Harry O'Donovan.
For almost fifty years, Hayden played at the Gaiety theatre, in pantomimes and revues, frequently as the pantomime villain, which earned him the nickname of "the best baddie in the business". He also worked as stage manager for O'D Productions on tours of Ireland, the UK, and most notably to Australia and New Zealand in 1961.
Hayden's papers include correspondence, scripts, photographs, handbills, posters, production notes and theatre programs, and also relate to careers of other Irish actors such as Jimmy O'Dea, Maureen Potter and Milo O'Shea.
ITA/259 Patrick McLarnon (1926-1998)
The Irish actor Patrick McLarnon made his debut with the Dublin Gate Theatre Productions in 1949 as the statue in Prunella. However it was his casting in the title role of The Picture of Dorian Gray and the tour with the Gate Theatre to Egypt in 1956 which firmly established him in the Irish Theatrical scene.
During his career he appeared in a wide variety of roles with Dublin Gate Theatre Productions and with other major companies such as the Globe Theatre production, as well working in television. He was employed as assistant producer for Gate Productions in 1975. He died in March, 1998.The collection includes press-cuttings, programs, photographs, and original play scripts. It also includes letters McLarnon received from Micheál Mac Liammóir and Hilton Edwards which reflect the friendship and professional relationship he had with both men.
ITA/258 Storytellers Theatre Company (1986-2008)
Storytellers was founded in 1986 by Mary Elizabeth Burke-Kennedy to create and tour ensemble theatre based on major stories from Irish and international sources, by writers from Oscar Wilde and Sophocles to George Moore and John Steinbeck.
The artistic policy and motivation of the company was driven by:
the belief that the telling of stories is fundamental to the creation of theatre
the desire to revisit and revitalize classic, neglected or forgotten texts
the need to create new stories from diverse literary sources.
The collection reflects the seminal role of the company in Irish theatre and includes scripts, programs, correspondence, recordings, and photographs.
ITA/263 Christopher Casson (1912-1996)
Born on 20th of March 1912 in Manchester, Christopher Casson was the younger son of the celebrated theatrical couple, Dame Sybil Thorndike and Sir Lewis Casson.
In 1938, Christopher joined the Edwards and Mac Liammóir, company at the Gate in Dublin. In 1941 married the Irish artist and stage designer, Kay O'Connell, with his mentor Micheál Mac Liammóir, as best man. In 1946, Christopher moved to Longford Productions at the Gate Theatre, where he acted and directed until becoming a freelance actor in 1950, working in television, radio, stage and screen. He attained national recognition when he joined the cast of RTÉ's The Riordans, as Canon Browne. His successful acting career continued until shortly before his death on 9 July 1996.
The collection includes programs, correspondence, paintings, diaries, photographs and press-cuttings relating to Christopher and his parents, and relating to other twentieth century Irish actors such as Micheál Mac Liammóir, Anew McMaster and Milo O'Shea. Also included are four letters from George Bernard Shaw.
ITA/282 Anna Manahan (1924-2009)
Anna Manahan (18 October 1924 – 8 March 2009) was a Waterford born actor who preformed on stage, film and television for over 60 years throughout Ireland, Europe, the USA and Australia. Her critically acclaimed roles included Serafina in the first Irish production of Tennessee Williams' The Rose Tattoo in 1957, her 1969 role in the Broadway production of Brian's Friel's Lovers, and Mag" in Martin McDonagh's The Beauty Queen of Leenane for which she won a Tony Award in 1998.
Among the honours Anna Manahan received during her lifetime was the Freedom of Waterford City in 2002, and an honorary doctorate from the University of Limerick in 2003. The collection includes programs, posters, handbills, correspondence, photographs, scripts, costume designs, press-cuttings and other materials relating to Anna's career.
ITA/268 Sheila and Carmel Leahy: Edwards- MacLiammóir Papers
The collection was donated by two Dublin sisters, Sheila and Carmel Leahy, life-long friends of Micheál MacLiammóir (1899-1978) and Hilton Edwards (1903-1982), and fans of the Gate Theatre. Whenever possible, Sheila and Carmel Leahy went to see productions by MacLiammóir and Edwards at the Gate Theatre, Dublin and also in Paris, Rome and other countries.
The sisters corresponded regularly with MacLiammóir and Edwards, spent holidays and other occasions in their company, and received many personalised signed souvenirs of the various productions which the two actors were involved with.
The collection includes correspondence, postcards, scrapbooks, programs, newspaper cuttings, printed books and long-playing records which provide a valuable insight into personal lives and careers of MacLiammóir and Edwards. It was listed by Dublin City Archives intern Sarah Kingston.
ITA/286 John MacDonagh (1880-1961)
John MacDonagh (1880-1961) was born in Cloughjordan, County Tipperary. During his life he had a prolific and varied career as a playwright, film director, writer, poet, singer and musical composer. A Lieutenant in the 2nd Battalion of the Irish Volunteers and a member of the IRB, he fought alongside his brother, Thomas MacDonagh, at the Jacob's Biscuit Factory during the 1916 Easter Rising.
The collection consists of MacDonagh's plays and sketches, hand-written sheet music, correspondence and ephemera. Of particular significance as a historical document is a hand-written letter, signed simply "Henry", regarding the conditions in the Frongach Internment Camp to the London Aid Committee, dated 30 August 1916.