Lifelong Learning: skill up
Published on 31st August 2023
At home and at work, we need to learn new things. It could be learning to use a new phone, a new app, or a new process at work. Building skills is a constant in an ever-changing world. The new normal will be tech-driven.  
We live in an era where you can do almost anything in your home by watching a YouTube video. This anytime, anywhere learning has created a DIY culture that allows people interested in everything from home improvements to crafting to cooking to learn practical skills. Most people take digital literacy for granted; apps are a part of life now, as well as online shopping, gaming, banking and video chatting. 
Digital literacy means having the skills you need to live, learn, and work in a society where communication and access to information is increasingly through digital technologies like internet platforms, social media, and mobile devices.
But technology can't do it alone! We also need people who can adapt to new technology, be flexible, and take on this new digital world. 
Public libraries are stepping up to the plate.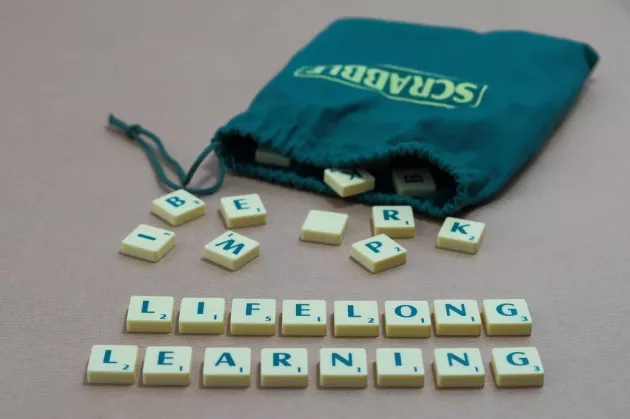 Lifelong learning is a continual process for every one of us, whether it is for personal interest or professional development. This pandemic has required us all to develop new skills, and resilience. Self-directed learning is very rewarding. You have control over the path and pace of learning.
Pursuing passions and interests outside of work is important for life satisfaction. Lifelong Learning courses cover a broad range of topics.

ArtistWorks for Libraries provides players world-class instruction from Grammy Award-winning music professionals. It offers users a guided path of video lessons containing everything they need to reach their musical goals. All levels of player are welcome!
Blues, Bluegrass, Jazz, Rock, Classical and More
Hundreds of hours of high quality video instruction
Studio quality play-along tracks
Downloadable written materials, tablature and sheet music
You'll have full access to content from ArtistWorks for 30 days. When it expires, you can get access through Libby again. When registering for Libby, do not put in your local branch please put in Dublin City.
The Great Courses Plus. This video streaming service is brought to you by The Great Courses the leading global media brand for lifelong learning and personal enrichment. This collection includes more than 250 courses, led by the world's top experts, covering a broad range of subjects, such as science, mathematics, philosophy, history, literature, fine arts and music, travel, business, and personal development.
3,000+ hours of carefully curated and commercial-free, entertaining and engaging content
Courses taught by brilliant, award-winning, and trusted experts in their fields
Twelve categories for all types of patrons with new content monthly
Guidebooks for each course to supplement course material
A 7-day pass gives you full access to content from The Great Courses Library Collection. 
Infobase Learning Cloud (formerly Hoonuit) is a web-based repository of online, on demand, technology tutorials. It offers unlimited library member access to video-based software training on hundreds of common software applications and devices, including Microsoft Office, Zoom, Adobe Creative Suite, Google Docs, and iPad.
Students need to effectively gather, study, and cite sources for their essays and projects. As librarians know, the internet has made this process fruitful but more complicated. Our online reference and research tools are credible, usable scholarly resources.
There's also some more online resources designed to help you with home study and remote learning, projects, essays, assignments and reports.
Universal Class is the place to continue your education online and fulfil all your lifelong learning goals.
500+ online courses on just about anything ranging from cake decorating to accounting and bookkeeping
Accredited CEUs for professional development
Self-paced, easy-to-use, 24/7 access – learn anything, anytime and anywhere
Supports assessments for the serious student or a view only version for the casual learner
Touch-type Read & Spell (TTRS) course is a multi-sensory, structured, online typing course which assists students to learn at their own pace. 
TTRS is modular in design and contains 24 levels with 31 modules in each level. A module typically takes a few minutes to complete and we recommend taking 2-3 modules a session. Student success is encouraged by immediate feedback and positive reinforcement. This feedback includes a score that is based on completion rates and accuracy, not speed or time taken. Through the multi-sensory approach, a user hears the words spoken through headphones or speakers, sees the words printed on the screen, and is prompted as to which fingers to press via the on-screen keyboard. Finally, through the sense of touch, they type out the words, harnessing muscle memory in the hands and fingers to learn spelling.
There are many reasons why you should learn a language. From health benefits to improved memory and brainpower. The most important advantage of learning a language is its ability to ward off diseases such as Alzheimer's and Dementia. The results of various studies showed that in adults who speak two or more languages, the first signs of the diseases were offset by a few years. Parlez with the best of 'em! 
Library Blogs highlight useful employment and business related resources.