Clarendon Row Improvement Scheme
Dublin City Council will commence work on the Clarendon Row Improvement scheme in January 2022. Clarendon Row provides an important link between St Stephen's Green and the retail area to the west of Grafton St. This scheme is being progressed as part of the Grafton Street Quarter Public Realm Plan, which was developed to meet the objectives of the overarching Dublin City Council Public Realm Strategy 'Your City Your Space' document. A high quality design is being utilised to improve ambiance of the street, with increased greening and wider footpaths creating a quality space to be enjoyed by all.
The proposed works will involve a full upgrade of the footpaths and carriageway at this location along with the reintroduction of the Dublin Bikes Station. The footpaths will be widened and repaved in Leinster granite, and two new trees will be planted to match those already introduced to Clarendon St.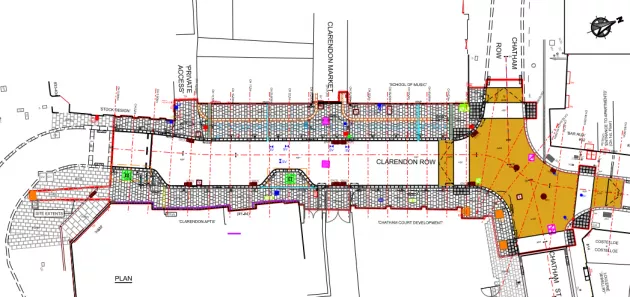 The above Works include, but are not limited to:
the excavation and removal of the existing pavements.

The milling/planning off, excavation and removal of unacceptable material in the existing carriageways and footpaths.

The reconstruction and surfacing of existing carriageways.

The repaving of footways in new granite paving slabs.

The construction of new drainage gully chambers and modifications to existing chambers.
The provision and installation of new watermains, traffic and public lighting ductings and PL column sleeves.

The removal and disposal of defunct ironmongery to store or to a recycling facility off-site.

The provision and construction of new Utility Service manhole chambers, covers and frames.

The alteration of existing Utility Services covers and frames to match the proposed finished levels.

The provision and installation of new signage poles, bollards, litterbins, water bottle filling station, and NOW Dublin bikes' bicycle stands.

The construction and installation of two new tree pits.

The creation of a raised platform at the Junction of Clarendon Row/Chatham St and the provision of new uncontrolled crossing points at all arms of the junction.

The temporary provision of Offices, Messes, Stores and Welfare facilities, PR, undertaking all requisite Temporary Traffic Management, Road Sweeping and Cleaning, Facilities for Utility Service Providers, Protective Measures, and the provision of PSCS and Archaeological Services, etc.
This Scheme was developed and designed in-house by Dublin City Council's Road Design and Construction Division, in conjunction with Dublin City Council's City Architects Division and Parks Department.
The Scheme location and extent is illustrated on the attached drawing [RD-3413-RT-0001_A.pdf] – Site Location Map.
The current street layout is illustrated on the attached drawing [RD-3413-RT-0101_A.pdf] – Existing Topographical Survey.
The proposed street layout is illustrated on the attached drawing [RD-3413-RT-0601_A.pdf] – Proposed Paving Plan
Contractor:
Dublin City Council has engaged the following main Contractor for the works:
Cairn Construction, Courtyard, Behan Sq., Russell St, Dublin 1
Email:   [email protected]
Contractor's Public Liaison Officer: Myles Jordan, 087-8375899
The Works will be overseen by Road Construction Section, DCC – [email protected]
Works are commencing in January 2022 and are expected to be completed by mid-2022. Working hours will be mainly 08:00-18:00hrs, Monday to Friday.  Occasional evening and weekend work (particularly at road junctions) may be required. Carriageway surfacing works will most likely be carried out at night-time or weekends.
Pedestrian and vehicular access will be maintained during the works; however, Temporary Road Closures may be required for short duration(s) while re-construction junctions.  Any Temporary Road Closure required will be advertised in advance.  Occasional STOP-GO arrangement(s) may also be required. When excavating the road outside individual premises, access will necessarily be temporarily interrupted. The contractor will liaise with those affected in advance of the work to minimize the disruption.
Similarly, access for emergency services, and refuse collection, will also be maintained
A site compound will be established on the north side of Noel Purcell Walk (between Bow Lane East and Mercer Street Lower).
Acknowledgement and thanks:
Dublin City Council apologies for any inconvenience caused and seeks the public's understanding and cooperation during the course of these Works.