Age friendly Dublin Libraries
Published on 17th April 2023
Dublin City Libraries are Age friendly! 
Improvements include a dedicated age friendly section, clearly visible signage throughout the library, designated easy to rise seating, and increased font size on book receipts. Most libraries provide reading glasses for visitors. Have a look at our NEW Large Print Fiction and Large Print Nonfiction. 
Also Coolock Library and Walkinstown Library provide trolleys so that you're free to browse the shelves at your leisure and add to your TBR pile! 
We would like to thank the North Central Area Office for funding two new Age Friendly car parking spaces outside Raheny Library, the first to be piloted in Dublin City Council.
Other age friendly initiatives include Age Action computer classes. Digital Literacy Courses are also available in select libraries. Daytime groups cover art, crochet, patchwork, knitting, and morning book clubs. More on book clubs in our libraries.
The following libraries are running Digital Literacy/Know Your Mobile courses. Due to high demand all these courses are currently FULLY BOOKED.
Contact your local library to register your interest for future / or if you would like your library to provide these courses in the future: 
Ballyfermot 
Cabra 
Coolock 
Terenure – Know Your Mobile
Dolphin's Barn
Rathmines
Raheny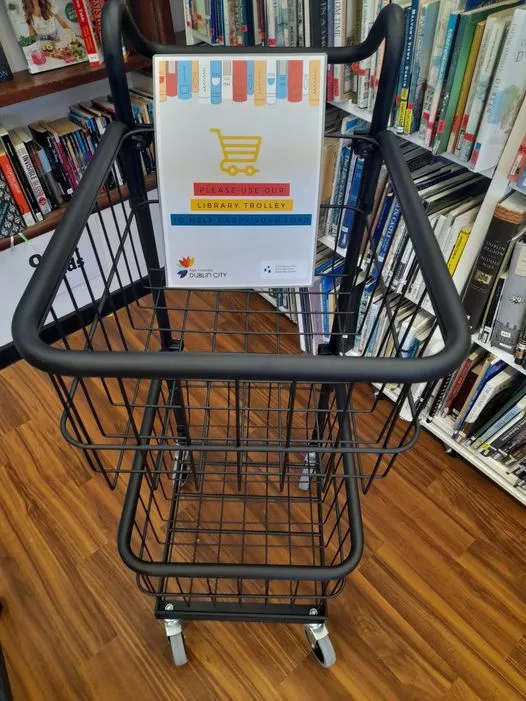 ACORN Tablets
ACORN tablets are available for use in Coolock Library. For more information on this scheme, contact Coolock Library.  Read about the Acorn tablet.
Acorn tablets provide access to most common digital tasks, such as taking photos or contacting your family.  The tablet has a clear layout and guidance for anyone less familiar with technology. There are four main menu options: talk, photos, calendar and explore, with an Acorn button in the centre. Tap that and you get an overview of your day – what time it is, the weather forecast and notifications. See image below.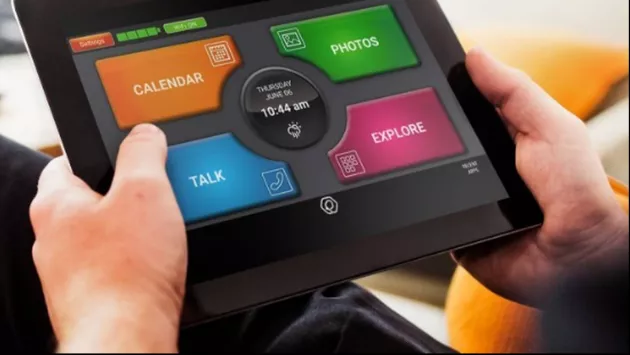 Hublet tablet lending device
Our Hublets allow you to borrow a tablet and use it in the library. This allows you to access eBooks, digital magazines, videos and other apps. 
The Hublets are available at Pembroke and Raheny Library. Read more in the blog HERE.
C-Pen
C-Pens are available for lending in all libraries, as part of our assistive technology services. The C-Pen is a reader pen which scans and then reads text aloud to assist with independent reading. Reader pens are designed to promote active independent reading, understanding, and learning. People with dyslexia, aphasia or other reading difficulties, people learning a language or people with visual impairments may find these pens useful for home, study or work.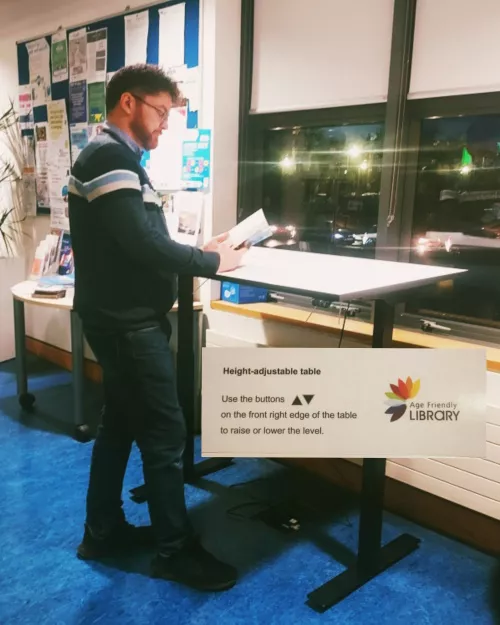 We have height-adjustable tables at Cabra Library! Height-adjustable tables and standing tables are proven to help relieve back issues and improve posture, and also help with blood circulation and improve physical and mental health.
The Magic Table
Do you work with people with dementia or with learning disabilities?
The Magic Table (or 'Tovertafel' in Dutch) is an award-winning innovation from the Netherlands.  It uses specially designed technology to help people with mid-to-late stage dementia and also adults with learning disabilities.
It consists of a series of colourful and fun interactive light games projected onto the surface of a table which respond to hand and arm movements, and which stimulate physical and cognitive activity as well as encouraging social interaction. 
The Magic Table is now available in Cabra, Central and Walkinstown Library.
Bookings can be made for individuals or for groups of up to 6 people at a time. Carers/assistants/family members, etc. should attend with the individuals or groups.
BorrowBox
On Borrowbox there is a wide range of eBooks and eAudiobooks available at the click of a button. 
Access eBooks/eAudiobooks on your phone, tablet or reader. Once you have installed the app, search for Dublin in the 'Library' field provided and then sign in using your library membership card number and PIN.
Watch our how to video on Borrowbox. Members of other library authorities will need to log in using a different link.
Here are some instructions if you are using BorrowBox on an eReader or computer.
Have a look on our website for a full list of our online resources. In the meantime read the Online resources menu blog. If you have any queries or if you registered online and can't access any of these resources, you can also contact us at [email protected].
Computer Literacy 
Computer Literacy Basics Training. This course teaches the basics of computer use. It is offered for free with your library membership on Infobase Learning Cloud.
Language
You can even Learn a new language with online resources.
Lifelong Learning
Building skills is a constant in an ever-changing world.  Read our blog: Lifelong Learning: skill up. 
Magazines
With Libby, you have access to over 3,000 digital magazines with a rolling three years of back issues (where available). There are no magazine checkout limits, so you'll be able to borrow as many as you like. Introducing Libby for magazines blog. 
Music
You can listen to music for FREE with Freegal and your Dublin City Libraries card. 
Oxford Music Online contains 1,000s of authoritative, peer-reviewed articles with rich supporting materials including bibliographies, media, and links to related resources.
Medici TV is the world's leading classical music channel featuring hundreds of concerts, operas, and ballets is now available for FREE. Choose from an extensive selection of concerts, operas, ballets, documentaries and master classes:
3,500+ musical works
2,700+ films
150+ live events each year
Read our articles: Music in Dublin City Libraries and Music reference resources
Library in the Community
Library in the Community aims to ensure that books are easily accessible to everyone. We place small taster collections of Dublin City Libraries books in community locations. Locals are encouraged to browse the books, find one that they like, bring it home and then return it when they're finished so that someone else can enjoy it. 
One of our book collections is in the reception area of the Séan O'Casey Community Centre. A couple of the books in the collection are published by Clarity Books, a company that makes books especially for people who find reading challenging. These challenges can range from dyslexic readers to those who suffer from eye strain and tiredness. Clarity books are printed in a large text size, using a specific font, ink colour and paper stock colour – all of which have been proven to promote easier reading.
We have a library locker in Drimnagh
We manage deliveries to housebound borrowers and organise book collections and presentations about library resources for groups and organisations. More in the blog HERE.
If you know a location or organisation that would like a book collection please get in touch with us: [email protected]