15.1.1.11 SDRA 8 Grangegorman/Broadstone
In April 2002, the government made the decision that a new consolidated DIT campus would be developed at Grangegorman, complemented with new healthcare facilities, and integrated into the city fabric. The planning scheme for Grangegorman was approved by An Bord Pleanála in July 2012 as a strategic development zone (in accordance with Section 169 of the Planning and Development Act 2000 (as amended).
This significant re-development project (c. 29 hectares) is managed by the Grangegorman Development Agency, whose role it is to deliver a modern campus for the Dublin Institute of Technology, to provide the Health Service Executive with upgraded primary health and social care facilities and to provide other facilities including a new school and sports grounds for the benefit of the community. Overall objectives for creating connections, urban form, campus nodes, landscaping etc. are set out in detail in the SDZ.
Implementation of the SDZ is on-going. The first public element delivered was the Phoenix Care Centre which was officially opened in February 2013 and provides a replacement mental health facility for St Brendan's Hospital, on the North Circular Road. Key large-scale site infrastructure and public realm works have also been carried out, and the DIT campus opened its doors to the first 1000 students in September 2014. Other key elements to be delivered in the short term include the HSE new primary care centre (located in the Old Laundry Building) and construction is underway of the greenway hub, which will house the environmental health sciences institute and business incubation space. Funding approval has also been granted for a new Educate Together school just off Grangegorman Upper.
The guiding principles for this area are captured by the overall vision for Grangegorman set out in the SDZ as follows:
1. The planning scheme will create a vibrant, high-quality and legible urban quarter, with a clear sense of place.
2. Deliver the requirements of the HSE and DIT in an integrated fashion.
3. Respect and celebrate the heritage of Grangegorman.
4. Reach out to and embrace the existing local community and the future students, service users and staff of Grangegorman.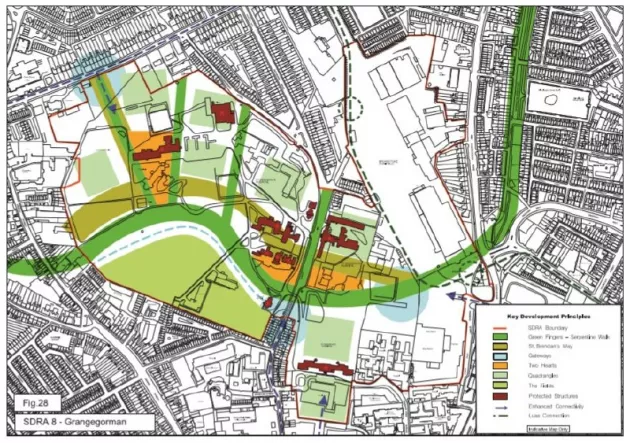 5. Sustainability is a core requirement and the quarter must be both responsive to its current context and development needs, and adaptable to its future context and development needs.
6. The quarter will be a centre for innovation and creativity.
7. Contribute to the regeneration of the inner city.
8. Provide a dynamic new economic engine for the city and region.
The continued implementation of the Grangegorman SDZ is expected and encouraged throughout the life of the development plan.